By Lim Chee Han (Senior Analyst, Political Studies Programme), Ngeow Chow Ying (Vice Chair of Civil Rights Committee of Kuala Lumpur & Selangor Chinese Assembly Hall), and Harchanadevi Arivananthan (Intern) |
Posted on

Executive Summary
Malaysia's Dangerous Drug Act was amended on November 2017 to abolish the mandatory requirement of the death sentence for drug trafficking offences. On October 10, 2018, the Pakatan Harapan government went further, and has pledged to officially abolish capital punishment in general for all offences
To understand the inconsistency and high judicial error rate of past death penalty cases, 289 cases were compiled from three major online sources of legal publication databases for analysis. It is found that on average, 27.7% of High Court and 50.0% of Court of Appeal death penalty case judgements were overturned by the immediate higher courts
Variables such as offence type, ethnicity or nationality, gender (of the accused) and the locality of the High Courts are shown to be contributing factors in creating judicial errors
The disparity provides further justification for the abolition of capital punishment, and signifies that the legal system needs to be reformed to encourage restorative justice instead of retributive justice
Introduction
Malaysia is a retention country for capital punishment; and the mode of execution is by hanging i.e., "gantung sampai mati". Crimes punishable by death include murder; drug trafficking; treason; waging war against the Yang Di Pertuan Agong; terrorism; kidnapping or abducting in order to murder; possession of firearm; hostage-taking; and abetting mutiny (armed force).
Most death penalties in the late 1970s and early 1980s were ordered in pursuance to the Firearms (Increased) Penalty Act 1972 and the Internal Security Act 1960 [1]. In recent times however, they have been largely carried out under the Penal Code and Dangerous Drug Act [2].
The movement to abolish capital punishment in Malaysia started many years ago. Nazri Aziz, the then Minister in the Prime Minister's Department in charge of legal and parliamentary affairs, was quoted to have said in 2010: "If it is wrong to take someone's life, then the government should not do it either" [3]. This paved the way for an in-depth study of the issue by the International Centre for Law and Legal Studies (I-CeLLs), whose executive council comprises of distinguished experts in international and human rights laws. Despite this, Amnesty International placed Malaysia in 10th place among 23 countries it had studied for 2017 where capital punishment was carried out. [4]
In recent years, much focused has been placed on the Dangerous Drug Act and capital punishment. The practice of double presumption where possession would signify trafficking, [5] coupled with the mandatory nature of a death sentence within the Act, has resulted in the execution of drug mules, many of whom may be innocent.
On November 2017, the Barisan Nasional government amended the Dangerous Drug Act to abolish mandatory death penalty for drug trafficking. This reform came into force on March 15, 2018, and allowed judges to use their discretion, under specific conditions, in issuing the sentences.
For example, if the judge is satisfied that the accused has assisted an enforcement agency in disrupting drug trafficking activities, and has met one of the three conditions set out in Section 39B(2A) of the Dangerous Drug Act [6]; then the death sentence may be reduced to life imprisonment with at least 15 strokes of caning. If, however, the judge concludes that the conditions were not met, a death sentence shall still be ordered. This measure was described as a "baby step" towards abolishing capital punishment. But how this amendment was applied, and whether it was effective in saving lives remain unstudied. The announcement by the Pakatan Harapan government to officially do away with capital punishment on October 10, 2018 was met with both praise and protest. Those who wish to retain the death penalty argue, for example, that it serves as a deterrent to crimes, and is based on the principle of "an eye for an eye".
Abolitionists argue that death penalty violates the right to life as enshrined in Article 5 of the Federal Constitution. It has no proven deterrent effect, and more importantly, it is ultimate and irreversible. If an innocent person is to be executed, there is no way of bringing them back.
Contradictorily, a fair trial in reality is likened to a myth. Still, we cannot disregard whenever there are instances of miscarriages of justice, i.e., the use of torture to extract confessions; corruption; lack of proper interpretation; perjury; admission of contradictory evidences; and attitudes of the judiciary.
As no legal system is perfect and judges do make mistakes, especially when life is at stake, this brief studies the percentage of judicial errors (specifically the estimated probability of past judicial errors), and the inconsistency in capital punishment cases by citing available law reports and written judgments of death penalty cases in the High Court, the Court of Appeal and the Federal Court.
Comparisons are then made on the number of cases revised, either by acquittal, partial acquittal or aggravated, by the higher courts on appeals. The purpose is to establish whether the judicial errors were unavoidable, thus, making wrongful executions possible.
The study design
A total of 289 death penalty cases [7] were retrieved from three major online sources of legal database publications [8], namely the Malaysian Legal Journal (MLJ), Current Law Journal (CLJ) and Asean Legal Information Portal (Asean LIP).
The keyword searches comprised of "Section 302 Penal Code/murder"; "Section 121 Penal
Code/Waging War"; "FIPA"; and "death penalty" on reported cases from 2013 [9] to June 2018.
All cases were compiled, analysed and sorted according to ethnicity/nationality, gender, locality of the High Courts, offence code, Court of Appeal decision date, defence/appeal strategy and judgment/decision.
Figure 1 shows that 72.7% of death penalty cases (210) were for crimes committed by Malaysians. The ethnic percentage breakdown is as follows: Malays (76 cases; 26.3%), Chinese (49 cases; 17.0%), Indians (44 cases; 15.2%) and others (41 cases; 14.2%).
Convictions by non-Malaysians numbered 79 cases (27.3%), the majority of which were related to drug trafficking (66 cases; 83.5%) (See Appendix I).
More than half of the 289 cases were charged under Section 302 Penal Code (s302 PC) [10], and about two-fifths under Section 39B Dangerous Drug Act (s39B DDA). A limited number of cases were of charges for Firearms (Increased Penalties) Act 1971 (FIPA) and Section 121 Penal Code/ Waging War (s121 PC).
Figure 1: Distribution overview of the death penalty cases in Malaysia, by ethnicity and offence (2012 – June 2018)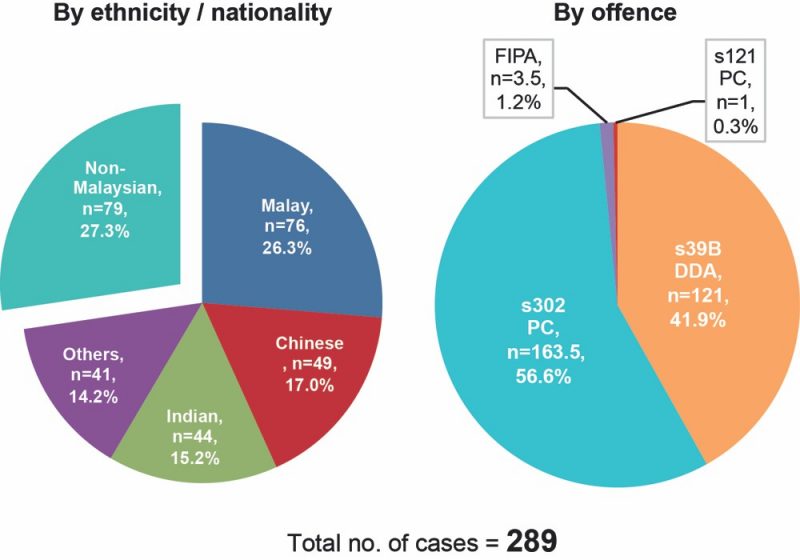 Revision of the court decision on death penalty cases is frequent and inconsistent
In criminal cases, the Judge must be satisfied beyond reasonable doubt that the person accused is guilty of the offence. However, based on the success rate of appeals at the Court of Appeal and Federal Court across the offence categories (Table 1), it is discovered that the application of this standard is inconsistent.
The revision rate is broken down according to offence categories: For s39B DDA cases, 34.7% of the High Court decisions were revised in the Court of Appeal; while for s302 PC cases, 22.6% were reversed.
At the Federal Court level, a change in trend is observed: s39B DDA cases had only a 20% revision rate; while the revision for s302 PC convictions was more volatile, with 61.5% of the Court of Appeal decisions being revised.
Overall, of the 289 cases studied, 80 were revised (Table 1). To that end, if a revision indicates that an earlier decision/judgment was either factually or lawfully incorrect, then this would imply that a judicial error had occurred in the lower court.
Table 1: Court decision on death penalty cases at the Court of Appeal and Federal Court, by offences
Cases where decisions made at the Court of Appeal differ from the High Court.

Cases where decisions made at the Federal Court differ from the Court of Appeal and
High Court.

Furthermore, based on the yearly breakdown, it is revealed that the revision rate is not constant for both s39B DDA and s302 PC cases (Figure 2). For example, especially high revision rates of 55% and 59% respectively for s39B DDA cases occurred in years 2013 and 2016. The volatile nature and inconsistency of judgment for death penalty cases is indeed worrying.
The conviction or sentencing of a person is ultimately decided by the Federal Court. However, only
20 Federal Court judgement cases were made available for this study. Of this, 10 cases (50%) had their decisions revised; three cases (15%) had their decisions reversed twice from the High Court; and six suspects (30%) were freed from the gallows ("Overruled" [11] and "Overruled in part" [12]). This concludes that judicial errors can occur at any level.
Interestingly, the High Courts in certain states have higher revision or judicial error rates than others (Figure 3). Barring the states with small case numbers (<10), High Court cases in Johor (44.0%), Penang (42.9%), KL (38.9%) and Sarawak (31.0%) have higher revision rates than the national average of 27.7%.
This implies that the accused may face a higher risk of judicial error depending on which state the trial is held in. For example, the difference in judicial error rate between the High Courts in Penang and Kedah (19.0%) stands at 23.9%.
Figure 2: Revised decision for s39B DDA and s302 PC cases at the Court of Appeal, by year (2012 – June 2018)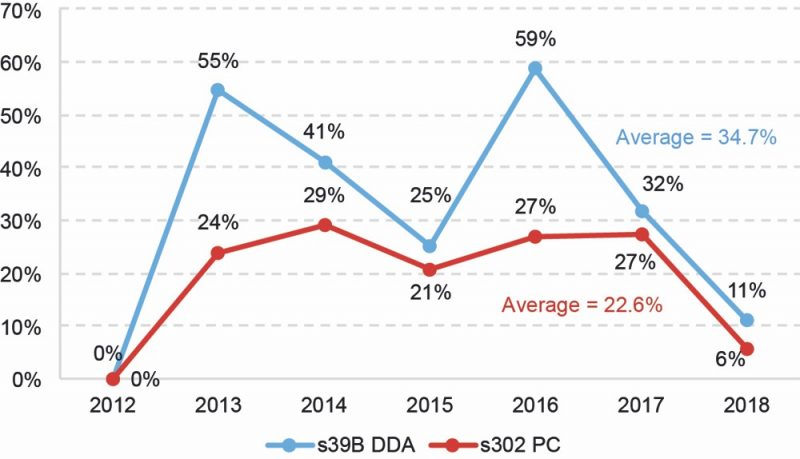 Figure 3: Number and percentage share of death penalty cases with revised decision at the Court of Appeal, by locality of the High Court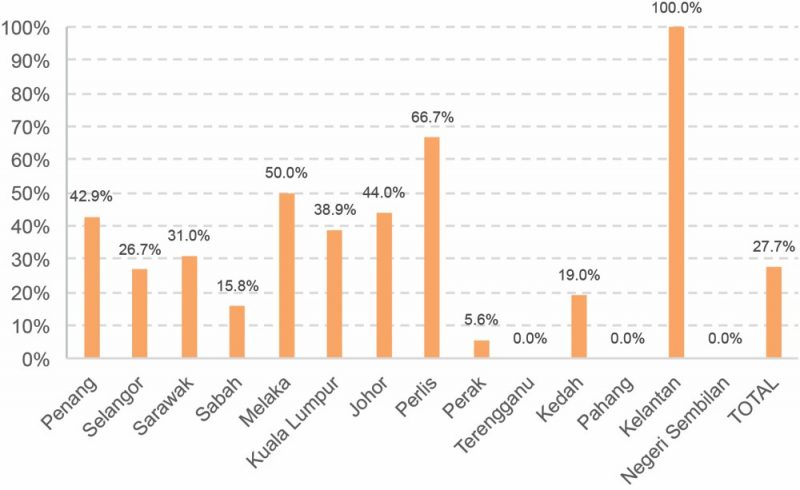 Factors contributing to judicial errors
It is identified that the revision rate differs across ethnicity and nationality as well (Figure 4). For example, non-Malaysians have a twice lowered probability of having Court of Appeal decisions for s39B DDA cases revised or overruled (Appendix I) than Malaysians in general.
However, for s302 PC cases, judicial errors in the Court of Appeal were found to be much higher among the Malays (28.8%) and non-Malaysians (27.3%), an almost 10% difference was recorded in comparison to the Chinese and Indian ethnic groups (Figure 4, red bars).
Only 15 capital punishment cases involving women were available for this study. Nevertheless, it is important to note that the decisions made by the Court of Appeal against them were markedly different from the men (Appendix II). The women had lower revision and overruled rates for s39B DDA cases at 26.1% and 16.9% respectively. But these percentages are much higher for s302 PC cases (87.5% and 50.0%). This therefore suggests the presence of gender-bias with regards to court decisions, i.e., women are less likely to be acquitted in drug trafficking cases.
In most cases, a defence based on evidence is raised by the accused (93.1%); very few rely on arguments on technicality (2.4%) (Figure 5); and interestingly, the former strategy leads to a higher chance of revised court decisions (29.0%), as compared to the latter (14.3%).
This also emphasises the importance of burden of proof, and the contention that one missed clue may lead to a very different outcome. In selected cases, new evidences did not appear until at the later stage of the appeal hearing (Court of Appeal or Federal Court), proving that the accused's life had been hanging in a precarious balance.
Figure 4: Revised decision on death penalty cases at the Court of Appeal, by offence and by ethnicity/nationality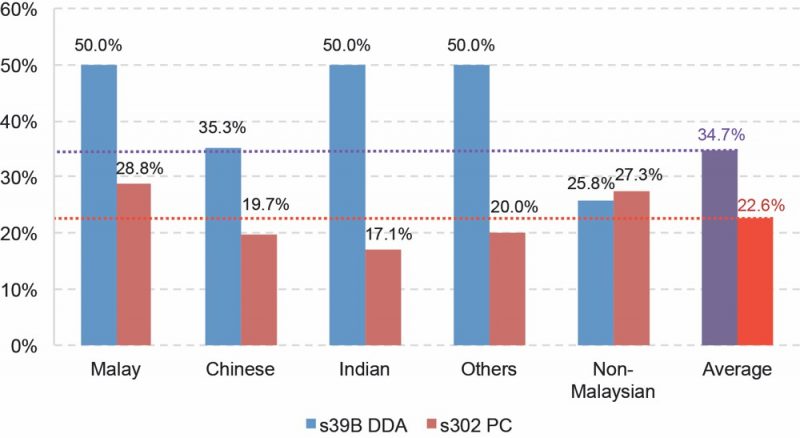 Figure 5: Distribution and revised decision on death penalty cases at the Court of Appeal, by defence strategy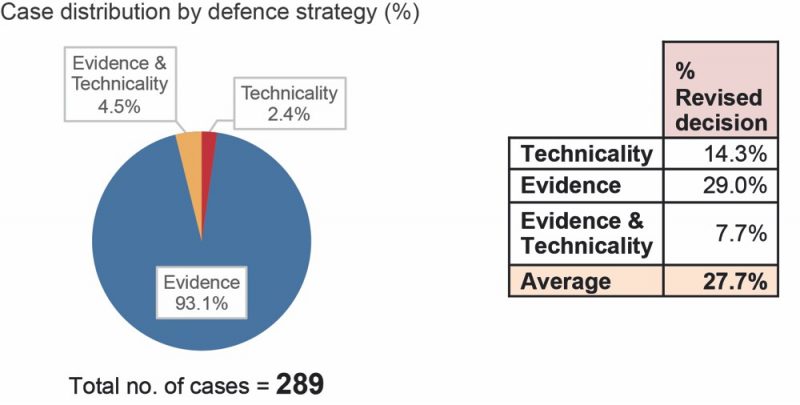 Conclusion
The inconsistency of court judgements is emphasised by the high judicial error rate. On average,
27.7% of High Court and 50.0% of Court of Appeal death penalty case judgments are overturned by the immediate higher courts. Therefore, these figures indicate that the decisions made by the High Court have more than a one-in-four chance to be overturned.
The year-on-year fluctuation of revision/judicial error rate likewise affirms this. In fact, the baseline is higher for revision of cases heard at the Federal Court, i.e., 61.5% for s302 PC cases. Thus, the myth of having more appeal hearings would lead to more consistent and less-error prone judgments does not hold water. A case in point is the indication of high probability of wrongful executions. If the irreversible punishment is carried out on an innocent person, this must be construed as a miscarriage of justice.
In light of the Pakatan Harapan government's commitment to abolish capital punishment for all types of offences, the findings in this study provide further justification to cement the pledge. The legal system needs to be reformed to encourage restorative justice instead of retributive justice.
Appendix I
Death penalty cases where decisions made in the Court of Appeal differ from the High Court, by ethnicity and nationality.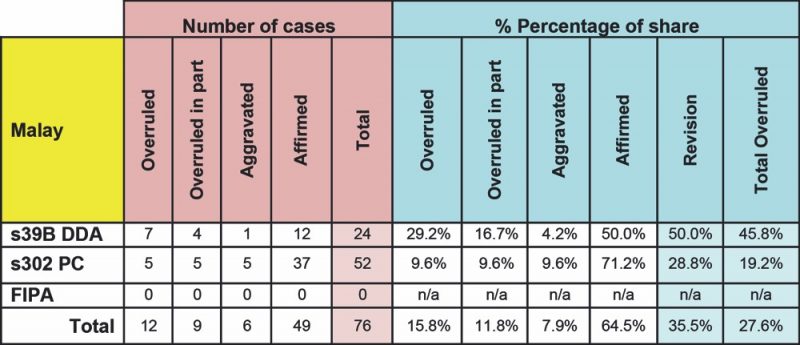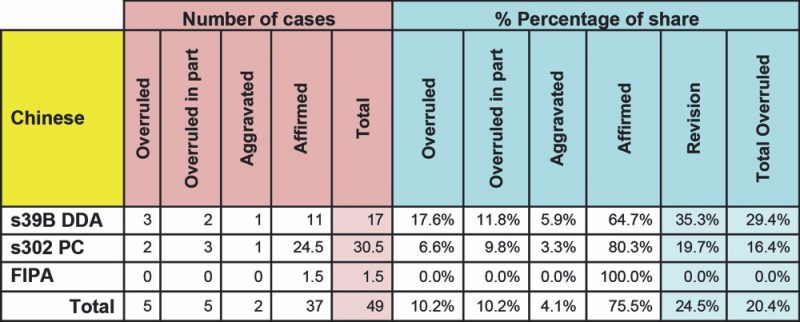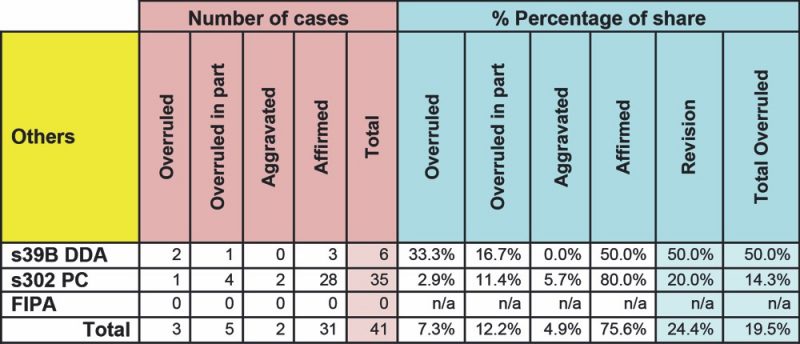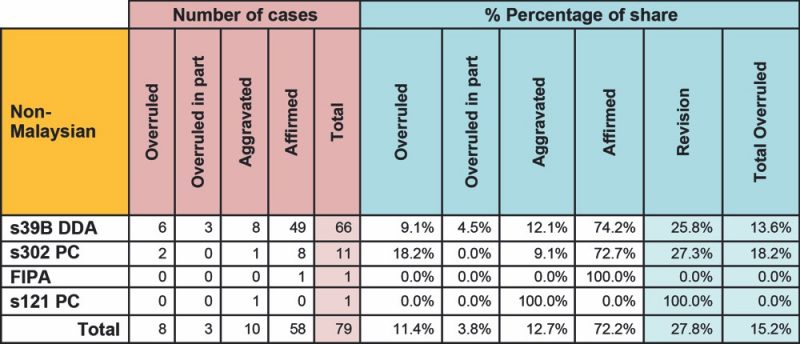 Appendix II
Death penalty cases where decisions made in the Court of Appeal differ from the High Court, by gender.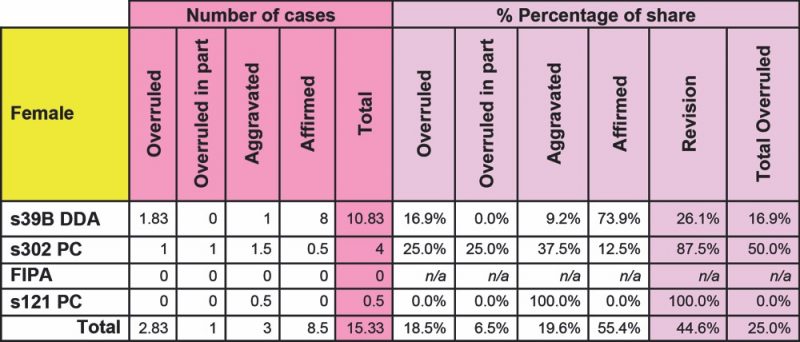 ---
[1] https://www.mahwengkwai.com/should-the-death-penalty-be-abolished/
[2] https://www.freemalaysiatoday.com/category/nation/2016/03/30/in-parliament-this-morning/
[3] https://www.thestar.com.my/news/nation/2010/08/29/abolish-death-penalty-its-incorrect-to-take-someones-life-says-nazri/
[4] https://www.amnesty.org/en/latest/news/2018/04/death-penalty-facts-and-figures-2017/
[5] Section 37(d) of the DDA.
[6] http://www.federalgazette.agc.gov.my/outputaktap/aktaBI_20171229_ActA1558.pdf
[7] This is not an exhaustive number for the death penalty cases in Malaysia. Many written judgements were not available in these online databases; some judgments have probably not (yet) been written and submitted. Although there are more than 20 offences which provide for death penalty sentences, focus was given only to the most frequent cases, such as murder, drug trafficking and firearm.
[8] Sources were accessed and cases were downloaded from June 22 to July 23, 2018.
[9] Some reported cases in 2013 contained court decisions made in 2012.
[10] The count is halved due to cases whereby the accused was charged simultaneously under two death penalty offences, s302 PC and FIPA.
[11] "Overruled" indicates the accused person not only escaped death row, but was acquitted of all charges as well.
[12] "Overruled in part" indicates the reduction to a lesser punishment by charging the accused under an alternate charge.
Managing Editor: Ooi Kee Beng, Editorial Team: Regina Hoo, Lim Su Lin, Nur Fitriah, Ong Wooi Leng