PENANG INSTITUTE is one of Malaysia's major think tanks. Funded by the Penang state government, it was established in 1997 (as SERI, the Socio-economic and Environmental Research Institute), and underwent a name change in 2011 as part of a rebranding exercise to reflect the heightened ambitions of the state to secure Penang's reputation as an intellectual hub and as the culture capital of the country, and to enhance Penang's reputation in ASEAN and beyond.
With the tagline "Making Ideas Work", Penang Institute encourages bold and innovative thinking not only in academic disciplines but also through the support it gives to literature and culture by way of events such as book launches, public literature seminars; through its public policy briefs, ISSUES, Monographs; through interviews with notable personalities on current state of affairs and trends in the form of podcast recordings which is available in three languages, as well as the Penang Institute Chats; and through its renown magazine Penang Monthly. In times of crisis, Penang Institute will contribute to the management of such crises by publishing informed papers on the local situation and on how this relates to events and initiatives undertaken in other parts of the world.
More concretely, the Institute's ambitions are the following:
To contribute towards making public policy-making in Penang and in Malaysia as informed and collaborative as possible;
To provide platforms for intellectual and professional exchanges on critical, current and strategic issues affecting Penang and its surrounding region;
To promote interest in Penang's cultural activities, and specifically in literary pursuits;
To aid academic research in general through the maintenance of a resource centre.
For these purposes, the Institute is built around three research programmes (Socioeconomics & Statistics; Urban & Heritage Studies; History & Regional Studies), a publishing unit, an Executive Director's office and a resource centre. Also attached to us are the Penang Education Council and PEKA – Youth Community Coordinator Programme. The Institute also functions as the Secretariat for the Dr Wu Lien-teh Society.
Our lectures series include the following:
Penang in Asia Lecture Series
The Penang in Asia Lecture series is a lectureship awarded under the patronage of His Excellency the Governor of Penang. It is organised by Penang Institute to bring together renowned scholars, public intellectuals and thinkers from diverse fields to Penang and speak about issues relevant to cultural, intellectual and economic development of Penang as an historical and future growth centre in Asia. The previous Penang in Asia lectures were delivered by Nobel Laureate Professor Sir James Alexander Mirrlees, Contemporary Islamic Intellectual Professor Tariq Ramadan, world-renowned economist Professor Jeffrey D. Sachs and Dr. Rajendra Kumar Pachauri, the Chair of the 2007 Nobel Peace Prize.
Towering Malaysian Lecture Series
This lecture series aims to bring towering Malaysians in various fields be it academic or non-academic to Penang for sessions on idea and experience sharing. This is to further inspire the younger generation in line with Penang's aim to be an International Intelligent World City.
Nusantara Forum Series (in partnership with GerakBudaya Bookshop Penang)
This forum series is a public space to foster the exchange of ideas. It offers a platform for engaged intellectuals and practitioners to discuss and rethink key issues from fresh, critical perspectives – cutting across disciplines and boundaries, and locating Penang as a hub within the wider Nusantara region. This series place a special attention on literature and arts.
Siri Syarahan Negara Idaman (In partnership with Naratif Malaysia)
This Malaysian language-based lecture series focuses mainly on the question of national identity, bringing politicians, academicians, artists, cultural workers, and writers to share and discuss their thoughts on how an ideal Malaysia should be. It also aims to construct an inclusive and progressive national narrative.
Bual Nusantara Series
This series serves as a platform for public discussion in the Malay language. It is an extension of Forum Nusantara which primarily covers issues related to the Malay Archipelago.
Agents of Change Buffet series
The Institute also keeps firmly in touch with Penang's and Malaysia's decision-makers from both the public and private sectors. For example, to help our researchers understand the ambitions and the problems that decision-makers have, and vice-versa, the Institute organises monthly in-house lectures where researchers can meet these individuals singularly. We call this the Agents of Change Buffet series.
Our Services
Penang Institute's greatest calling is not only to contribute directly to policy-making and to public discourse in political, social and economic matters, but also to stimulate the intellectual and cultural environment of Penang and Malaysia.
For that purpose, we offer the following services at a cost:
Research and deployment consultancy;
Survey and statistics analysis; and
Publishing expertise.
As a non-profit organization, Penang Institute also welcomes donations. These are tax-deductible. For enquiries, please contact +604 228 3306 (ext.101).
Hall Rental
Penang Institute is also one of the major venues for academic discussions in Penang. Our halls are rented out for important events of all kinds.
Below are the rental prices for our halls: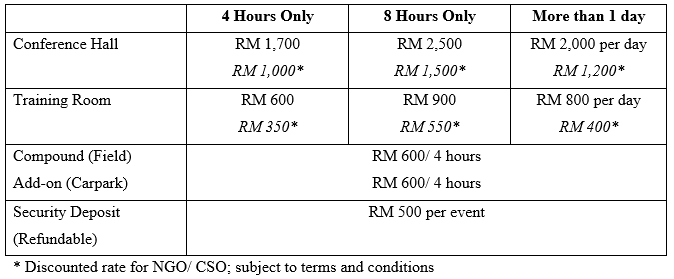 Download the hall booking form and view our halls here
To rent our halls, kindly download and fill in the hall booking form, and return to enquiry@penanginstitute.org. The halls are unavailable during public holidays and government-gazetted holidays. Rental of halls is subject to availability on a first-come-first-serve basis. Hall bookings must be done at least fourteen (14) working days prior to the day of rental. Once the availability of the hall has been confirmed by Penang Institute, a RM500 refundable security deposit is required to secure the Venue. This should be paid by Cash, Cheque or Online Transfer at least seven (7) working days before the day of rental.
Please be sure to read the Terms and Conditions set by Penang Institute in the hall booking form.
Our halls are only to be rented out to events that stimulate intellectual discussions at the discretion of the management of Penang Institute. Our halls are STRICTLY NOT to be rented out for religious events (including rituals), weddings, private gatherings and parties, performances and performance-based competitions, and others of similar nature.
For further enquiries, kindly contact +604 228 3306 (ext. 103).