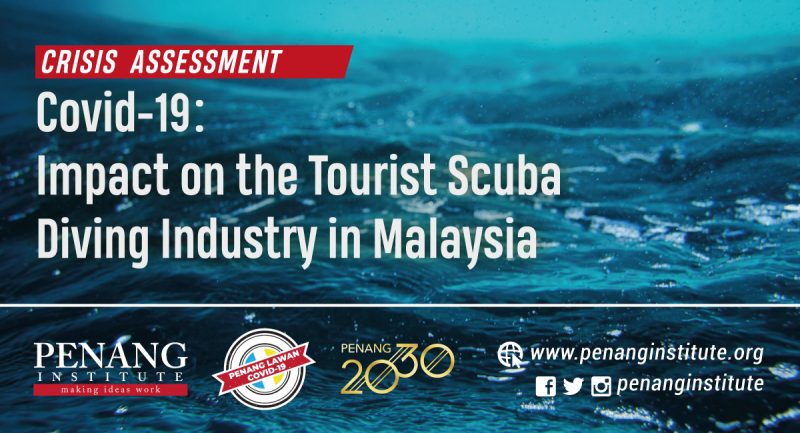 EXECUTIVE SUMMARY
Covid-19 and the resulting travel restrictions around the world, along with the Movement Control Order (MCO) put into place, has severely impacted the tourist and recreational scuba diving industry in Malaysia. And unlike an economic event such as a recession, the lingering effects of a such pandemic will continue to effect travel and recreational activity levels, which will suppress the amount of spending at every socio-economic level.
Urban dive centres have suffered the loss of retail sales and the revenue from conducting dive trips and classes for divers. Island dive centres have essentially lost half the business season that runs from March through October. And even when diving and training classes are permitted to commence, the flow of divers and dive students is expected to be very low. These island dive centres will suffer most, as they typically rely on limited revenue streams.
Employment in the diving industry covers a broad spectrum of jobs. Without divers buying equipment, not taking courses, and not traveling, effects are widespread, with no sector of diving-related employment untouched.
Difficulty with water activities and social distancing guidelines is going to be an ongoing drag on the industry's ability to rebound. Conducting face-to-face training, whether in the pool or shallow ocean water, has an inherent risk in terms of transmission. And social distancing that will be required on dive boats will reduce capacity by well over 50%.
Scuba Diving is a leisure sport activity, which makes it vulnerable to any economic downturn, as individuals and families react by cutting their discretionary spending. The scuba industry in Malaysia is particularly vulnerable because a large part portion of income arrives with international tourists and divers who visit the country.
*The writer is a DBA Graduate Student of the School of Business Administration, Wawasan Open University. He is also a dive centre owner and instructor/trainer, and a member of the Malaysian Scuba Diving Association.