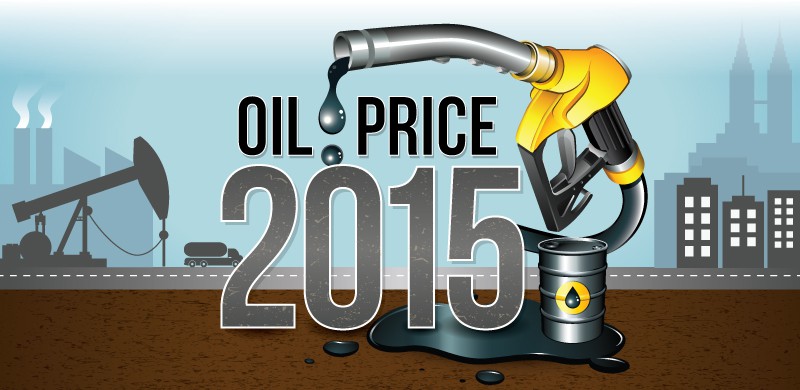 Since PETRONAS contributed RM73.4 billion (30% of the Malaysian government's expenditure) in 2013, the recent crude oil price fall has profound implications. The commodity effect will mean lower revenue and profits. However, this effect is cushioned by the depreciating USDMYR. This report aims to evaluate the likely price range of crude oil in 2015 and shows the possible impact on PETRONAS under different circumstances.
With contained geo-political risks, global crude oil oversupply, slower global economic growth and cost factors that favour continuous production rather than cuts, crude oil is likely to trade between USD40 – 70 per barrel.
Using the Annual Reports of PETRONAS, we estimated that:
If USDMYR depreciates slightly to 3.75 and crude oil trades at USD55 per barrel in 2015, PETRONAS' profitability (as measured EBITDA) might fall to RM72 billion; and dividends might fall to RM19 billion (vs. RM123 billion and RM27 billion respectively in 2013);
In a rosy case (where crude oil trades at USD70 per barrel and USDMYR trades at 4), PETRONAS' EBITDA would fall to RM98 billion but RM26 billion dividends payment might be possible;
In a bad case (where crude oil trades at USD40 per barrel and USDMYR trades at 3.5), PETRONAS' EBITDA would fall to RM49 billion and dividends might fall by half to RM13 billion.
Some PETRONAS assets might be impaired, in particular those that were purchased when crude oil price was trading at over USD100 per barrel. The report identified four investments made between 2012 and 2014. A 10% impairment charge on these investments would translate to RM5.8 billion loss using the current exchange rate. Such write downs will reduce corporation tax payable from PETRONAS to the government.
The report can be improved by additional accounting disclosure and more detailed information on segmental basis.