George Town, 1 March 2012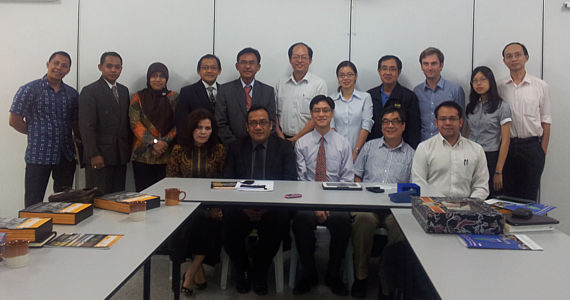 Penang Institute is proud to have been host to an official delegation from the Office of the Governor of East Java from 26-27 February 2012. The gubernatorial delegation was lead by Mr Hadi Prasetyo, Assistant Governor on Economic and Development. Other members consisted of Mr Warno Hari Sasono, Director Investment Board, Mr Budi Setyawan, Director Trade and Industry Department, Mr Lili Soleh Wartadipradja, Director Cooperation Affairs Bureau, and Mr Ali Afandi, Staff Cooperation Affairs Bureau.
The visit of the East Javan delegation was aimed at further enhancing ties between Penang and East Java, particularly Surabaya, the capital of the province. Penang and Surabaya share many similarities, being the secondary city of our respective countries as well as sharing the characteristics of emerging sub-national economies. Both cities are maritime cities which are heavily dependent on the export industry and have long played roles as transport hubs for the region.
Both Penang and Surabaya are also top investment destinations and enjoy growth rates that are higher than the national average in our respective countries.
Culturally, both cities have multi-cultural and multi-ethnic populations. Like George Town, Trowulan (former capital city of the Majapahit Kingdom) in East Java is a heritage treasure. It is now currently seeking UNESCO World Heritage status.
With global interactions shifting seamlessly beyond the traditional boundaries of nation-states towards a model of engagement between major cities, we seek to position Penang as a sub-national cultural, economic and knowledge hub via collaboration and healthy competition with other cities within the region, not least Surabaya in East Java.
During their visit to Penang Institute for an economic briefing, Mr Hadi Prasetyo, Assistant Governor of East Java, touted the idea of collaborative research between Penang Institute and Dewan Research Daerah, an East Javan state-owned think tank, to pursue the potential for mutually beneficial economic cooperation.
Surabaya itself has 3 million inhabitants while the East Java province has a population of 38 million. The prospect of unlocking such a huge market is tempting and Penang Institute fully intends to explore such opportunities.
Penang and Surabaya are currently largely unknown to each other, as Penangites traditionally make Bandung their destination of choice for shopping. Unbeknownst to us, Surabaya is in fact the centre of production, with wholesale fashion going for sale by the kilo. Penang on the other hand, is only known to East Javans as a centre of excellence for medical care.
However, in recent times, there has been a mushrooming of restaurants serving Penang delicacies all over Surabaya, such as the Dapur Penang Restaurant that was officially opened by Penang Chief Minister YAB Lim Guan Eng during his maiden visit to East Java last year. Penang is still awaiting its first Surabayan restaurant.
The gubernatorial team from East Java also paid a courtesy visit to Penang Deputy Chief Minister I YB Dato' Mansor Othman, besides engaging officials from George Town World Heritage Incorporated, Invest Penang as well as Penang Global Tourism.
Zairil Khir Johari
Penang Institute CEO