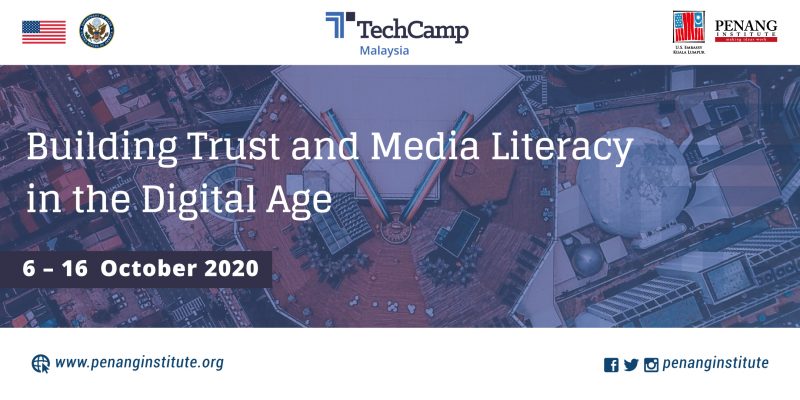 CALL FOR APPLICATIONS (Update: Applications closed)
Penang Institute and U.S Embassy Kuala Lumpur are delighted to announce that we will be hosting a regional virtual TechCamp on building trust and media literacy in the digital age.
The Internet has revolutionized the way we read news and retrieve information. It has become a global means for daily communication. However, the tools we use for this are easily exploited for the purpose of spreading fake news and disinformation. This phenomenon affects the entire world, including Malaysia and its Southeast Asian neighbors. With over 400 million people in the SEA region having access to the Internet, the battle to fight fake news is understandably an arduous one. Governments have resorted to laws to stop the spread, and journalists and media outlets have begun to diversify their products, for example by focusing on investigative journalism to counteract misleading and incorrect information from the ever-growing number of amateur news blogs. Media activists and educators are also working frantically to teach media literacy to citizens. The fight against fake news is a protracted battle and requires a multidisciplinary approach to effectively combat it.
TechCamp Malaysia aims to bring together emerging journalists; social media, community and government influencers; as well as members of the tech and programming community to engage with trainers on digital technology capacity building. The goal is to find strategies and tools for effectively improving the quality of reporting, enhancing public media literacy and reducing the reach and impact of disinformation. TechCamp Malaysia also serves as a platform to connect participants with each other and form a strong network for future collaborations on projects related to countering disinformation.
Workshops within TechCamp Malaysia include topics such as: Digital Storytelling, Data Visualization, Effective Media Literacy Campaigns, and Online Fact-Checking and Verification. Creating Appealing Online/Offline Content; Content Verification; Digital Literacy and Awareness; and Tech Tools for Virtual Reporting. Participants will also get the chance to join exciting panel discussions on building trust and media literacy in Southeast Asia.
The TechCamp program, run by the U.S. Department of State, centers around interactive workshops that leverage private sector technology experts to build technical capacity among key influencers. TechCamp workshops are designed for results, with participants identifying individual challenges and working with trainers to develop and apply technology solutions. Post-workshop programming and projects are required for each TechCamp, utilizing TechCamp follow-on funds to help participants turn their ideas into action and sustain connections with each other, trainers and U.S Government staff.
Program Dates: October 6-16, 2020 (5 program days in total)
Venue: Online
Fee: All program expenses will be covered for participants
Language: Participants should have a strong command of English as all activities will be conducted in English.
View the full Agenda and Trainer Bios here.
Application Criteria:
Emerging journalists (early career to mid-level); social media, community and government influencers; as well as members of the tech and programming community are eligible to apply.
The program is open to participants from Malaysia, Indonesia, Thailand, Vietnam, Cambodia and the Philippines.
English proficiency is required since participants must be able to discuss complex issues in English.
Completed application forms must include a paragraph explaining the candidates' interest in and suitability for the program.
Application Deadline: September 4, 2020 (Update: Applications are closed as of 4 September.)
Application Form: https://bit.ly/3h9DQYF
Selection:
Applications are welcomed from Malaysia, Thailand, Indonesia, Philippines, Vietnam and Cambodia. Applications will be reviewed by Penang Institute and U.S. Embassy staff. Participants who are selected will be notified by Penang Institute by September 7, 2020, and provided with detailed event information.
Contact: For questions regarding the application process, please contact Ms. Lim Sok Swan (sokswan.lim@penanginstitute.org).