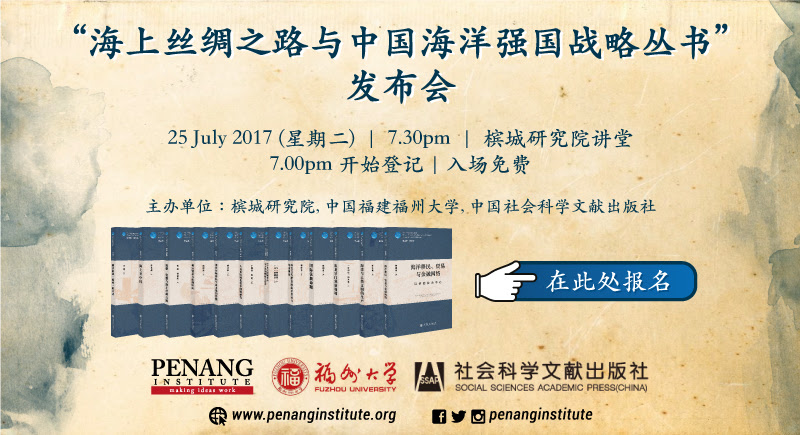 Penang Institute, the public policy think tank of the Penang state government is proud to host the launch of "Maritime Silk Road and China Power Strategies" book series including "Penang Chinese Commerce in the 19th Century: The Rise and Fall of the Big Five" which will be scheduled as follows:-
Date : 25 July 2017 (Tuesday)
Time : 7.30pm (Registration starts at 7.00pm)
Venue : Conference Hall 1, Penang Institute, No. 10, Jalan Brown, George Town, Penang

The Maritime Silk Road (officially the 21st Century Maritime Silk Route Economic Belt) is a strategic initiative to bring the discourses back to China. Since 2013, Mr. Xi, President of the People's Republic of China, brought up the idea of "One Belt One Road" as important strategic thoughts as the at the present stage. As the shift of strategic paradigm, the new theory, new knowledge system and new discourses are needed. This book series is the efforts made by the Fuzhou University's Research Institute of "21th Maritime Silk Road Development" and Social Sciences Academic Press (China).
Due to limited seating, we encourage you reserve your participation here as soon as possible.
---
槟城研究院很荣幸举办「海上丝绸之路与中国海洋强国战略丛书」发布会。此丛书由中国福建福州大学、中国社会科学文献出版社共同策划而成。其目的是基于全球化视野,通过挖掘中华民族的海洋文化基因,探索中国与海上丝绸之路沿途国家历史、经济、文化的当代与历史关联。而本丛书之一的《19世纪槟城华商五大姓的崛起与没落》,为本院历史与遗产组主任黄裕端博士的中文版译作,也将在此与大众见面。
座位有限,请按此报名参与。