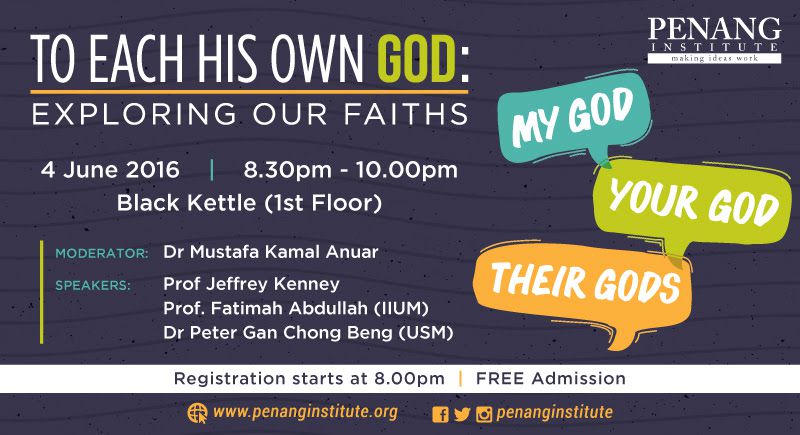 Penang Institute, the public policy think tank of Penang state government is proud to host a forum entitled 'To Each His Own God: Exploring Our Faiths'.
Date : 4 June 2016 – Saturday
Time : 8.30 – 10.30pm (Registration at 8pm)
Venue : Black Kettle, 1st Floor, 105, Beach Street, George Town
Many Malaysians shy away from understanding about others' religion. For them, understanding others' God can either be dangerous as it may lead to one's confusion or even apostasy, or useful if it helps to show the superiority of one's own faith. Underlying such attitude is a fixed mindset that equates understanding with agreement on the premise there is only a single version of truth.
Can it be the other way round — the more we understand about others' faith, the stronger we believe in our own? And can it be that the stronger we believe in our own faith, the more respect we have for others'? Ultimately, can we sincerely uphold our own faith and celebrate religious diversity at the same time?
Interestingly, while Malaysia prides herself for inter-religious harmony, comparative religion is not commonly taught, less so for students from multi-religious backgrounds. Should comparative religion be taught more widely? What are the challenges in teaching comparative religion in Malaysia and other countries?
All are welcome, confusion not guaranteed.
Panelists
– Prof Dr Jeffrey Kenney (Department of Religious Studies, DePauw University, Indiana, US)
– Prof Dr Fatimah Abdullah (Department of Usul a-Din and Comparative Religion, International Islamic University of Malaysia)
– Dr Peter Gan Chong Beng (Philosophy and Civilization Programme, School of Humanities, University of Science Malaysia).
Moderator
Dr Mustafa K Anuar, Head of the Nusantara Studies Section, Penang Institute
As seats are limited, please register your interest below.
For further enquiries, please contact the secretariat at 04- 228 3306 or email to secretariat@penanginstitute.org.
Online Registration