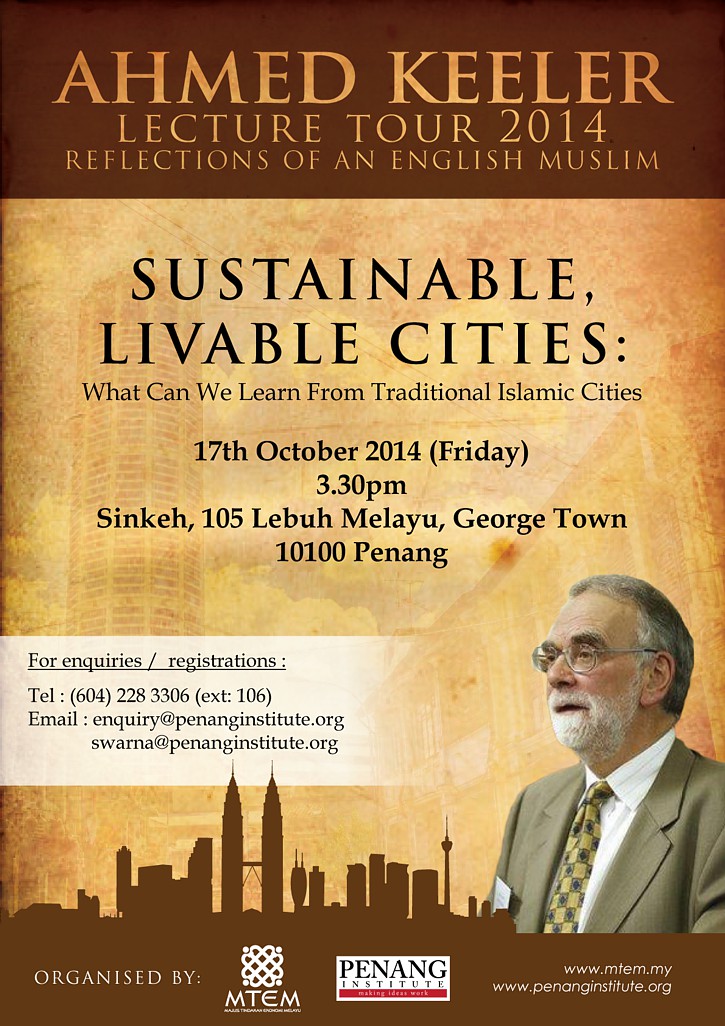 Penang Institute, the public policy think tank of the Penang state government is proud to co-host the upcoming talk by Ahmed Keeler with Majlis Tindakan Ekonomi Melayu (MTEM), entitled 'Sustainable, Livable Cities: What Can We Learn from Traditional Islamic Cities'. You are cordially invited to join us at this talk on:
Date : 17 October 2014 (Friday)
Time : 3.30-6.30pm
Venue : Sinkeh, 105, Lebuh Melayu, George Town, 10100 Penang
This talk is part of his 'Reflections of An English Muslim' lecture tour, which first took place at Cambridge University on 27th April 2014. Following his talk on 'Islam in a Globalized World' at Universiti Sains Islam Malaysia, the talk in Penang would be his second last leg of his tour before the final event at Kuala Lumpur.
As there are only 40 seats available please register early to avoid disappointment. Admission is FREE and registration is on a first come first serve basis. Kindly register your interest here by the 15 October 2014.
Kindly note that there are very limited parking spaces available. You may park your vehicle at parking spots along Lebuh Melayu, Lorong Toh Aka or Lorong Ikan. However, you are strongly advised to carpool or take advantage of Rapid Penang's bus services.
ABOUT THE SPEAKER
Ahmed Keeler was born in 1942, christened Paul Godfrey, and was brought up in a conservative, upper middle-class, Anglo-Catholic family. He belonged to the last generation that was educated to serve an empire which was in the final stages of dissolution. On leaving school he became deeply involved in the cultural movements of the 1960s that were in open revolt against the society that had nurtured him. A chance meeting with a master musician from India introduced him to a wonderful new cultural realm; in response he formulated and organized 'The World of Islam Festival' that took place in London in 1976, was opened by Her Majesty the Queen, and was the most comprehensive exposition of Islamic culture ever to have taken place in the West. Six months before the festival opened he embraced Islam.
For further inquiries, please contact Ms Swarna at 04-228 3306 (ext. 106) or email enquiry@penanginstitute.org.