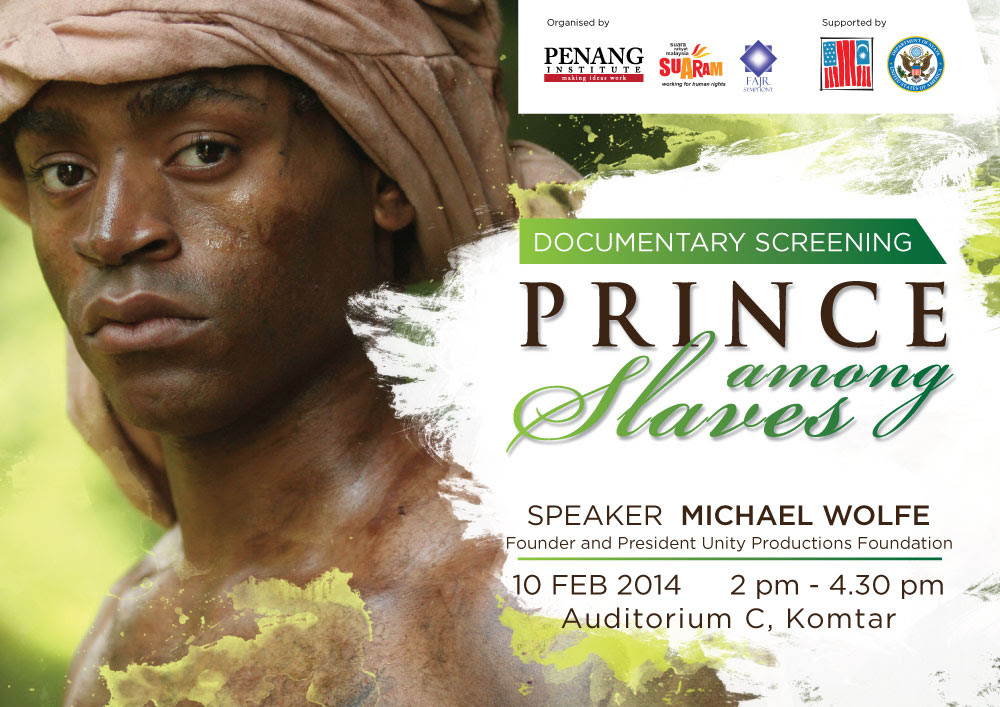 10 Feb 2014 | 2.00 pm – 4.30 pm (Registration starts at 1.30 pm) | Auditorium C, Level 5, KOMTAR, Penang
Kindly register here by 6 Feb 2014, 5.00 pm.

Date: 10 Feb 2014 (Monday)
Time: 2.00 pm – 4.30 pm (Registration starts at 1.30 pm)
Venue: Auditorium C, Level 5, KOMTAR
Dress code: Smart Casual

Winner of the Best Documentary at the 2007 American Black Film Festival, PRINCE AMONG SLAVES is a dramatic feature film of an compelling story of Abdul Rahman, an African Muslim prince during extraordinary times, interweaving universal themes of bondage and deliverance, pride and forbearance, guile and providence with the wild and unruly early years of America's Kingdom of Cotton. It is a story of the triumph of the human spirit with acceptance, perseverance, patience and tolerance in the face of greatest the misfortune.

Penang Institute and co-organizer Fajr Symphony and Suaram are therefore pleased to invite you to attend the PRINCE AMONG SLAVES documentary screening on 10 Feb 2014, 2.00-4.00 pm in Auditorium C, Level 5 Komtar. Please note that due to limited seating, we appreciate your kind response to reserve your participation early. For registration, please click here.

This documentary is sponsored by the US State Department.
Synopsis
1788. The slave ship Africa set sail from the Gambia River with a profitable but highly perishable cargo, hundreds of men, women and children bound in chains, headed for American Shores. Eight months later, on a slave auction block in Natchez, Mississippi, consisted of one by the name of Abdul Rahman Ibrahima – an African Prince.
Abdul Rahman, trilingual, a successful military general and true heir to a West African nation the size of Great Britain, only able to return to Africa 40 years later.
Prince in Africa but as a slave in America, he toiled in Foster's plantation ta make his owner rich. He married a fellow slave, Isabella and they had nine children. Gradually he became the most famous African in America attracting the support of men such as President John Quincy Adams and Secretary of State Henry Clay.
About the Director

Michael Wolfe (born 3 April 1945) is an American poet, author and the Founder and President of Unity Productions Foundation. He is a frequent lecturer on Islamic issues at universities across the United States including Harvard, Georgetown, Stanford, SUNY Buffalo and Princeton. He holds a degree in Classics from Wesleyan University
Programme

2.00 pm – Registration

2.30 pm – Opening Speech by YB Zairil Khir Johari, CEO, Penang Institute

2.35 pm – Speech by Mr Micheal Wolfe, Founder and President, Unity Productions Foundation
3.00 pm – Screening of Documentary
4.00 pm – Questions and Answers

4.30 pm – Adjournment
Please remember to register early. Registration is open here till 6 Feb 2014, 5.00 pm. An email confirmation will be sent out to confirmed guest by 7 Feb 2014.