There are two categories of good books: telescopes and microscopes. Telescope books show us the new and exciting, introducing us to fantastic faraway worlds that we could never imagine. Microscope books, on the other hand, invite us to examine the familiar, showing us aspects of our own lives we often take for granted from a different and more intimate angle.
No matter what type of book you pick up, though, telescope or microscope, there's no denying that the best books let us view life from fresh new perspectives. And that certainly seems to be the case with the nonfiction nominees in this year's Popular-The Star Readers' Choice Awards (RCA).
Those interested in exploring different sides of society can pick up Parthiban Muniandy's Politics Of The Temporary, which shines a spotlight on the oft-ignored lives of immigrants to Malaysia. Or you can read Ariffin Omar's Bangsa Melayu, which examines the similarities and differences between two distinct Malay regional communities.
Those who enjoy slices of the everyday, told in a personal style, should try Soo Ewe Jin's Sunday Starters: Reflections On Life. You can also be tickled by amusing anecdotes in Oh Teik Bin's School Stories, Travel Tales, Hotel Happenings, or be moved by tales of a mother's sacrifices in Amelia Chin's A Rude Awakening: For A Boy With Autism.
And if you are interested in the local political scene, works by a former prime minister and his activist daughter are nominated: Dr Mahathir's Selected Letters To World Leaders Vol 2, a collection of Tun Dr Mahathir Mohamad's letters to world leaders when he was in office, and Dancing On Thin Ice, Marina Mahathir's collection of articles from her fortnightly column on current issues in The Star. Also on politics, there is a biography of Lim Kit Siang written by Ooi Kee Beng.
The RCA nominees are chosen from the top 10 bestselling nonfiction (and top 10 fiction) books at Popular and Harris bookstores nationwide last year. As in the previous nine years the awards have been held, you get to decide the winners when you vote for your favourite titles.
What's more, you also have the chance to be rewarded with the RCA's "Read To Vote, Vote To Win" component: Send in your votes for your top three favourite titles in the fiction and nonfiction categories (six choices all together) and stand a chance to win a RM50 Popular gift voucher as well a free one-year Popular membership card.
The voting period is ongoing and will end on May 22.
So, how do you vote? There are several ways: 1) Cut out and fill in the form in the print edition of Star2 on Sunday and follow the submission instructions; 2) fill in the forms available in all Popular and Harris bookstores nationwide (note that there is no limit to the number of forms you can send in); 3) vote online by visiting popular.com.my, bookfestmalaysia.com or facebook.com/BookfestMalaysia.
Winners will be announced on July 2 at the Plenary Theatre, Level 3, Kuala Lumpur Convention Centre. (Do come along and cheer on your favourite authors and support the local publishing industry!)
To help you exercise your vote wisely, here are brief descriptions of the 10 nominees in the nonfiction category (we published the fiction nominees' synopses on April 24).
Also note that you can buy 19 of the 20 nominated titles at a 20% discount from now until July 31 in all Popular and Harris bookstores nationwide (Sunday Starters: Reflections On Life is sold at its nett price).
Here are the 10 nominees in the nonfiction category, arranged in no particular order. Vote wisely!

Sunday Starters: Reflections On Life
By Soo Ewe Jin
Sunday Starters is Soo's weekly column in The Star newspaper, where he reflects on current affairs and life as he sees it. The column covers a range of issues and emotions that have moved readers to laugh, shed a tear or two, and ponder over the deeper meaning of life.
Soo Ewe Jin has been with The Star since 2000, serving in various positions in the print and digital aspects of the newspaper and is currently an executive editor.
Politics Of The Temporary
By Parthiban Muniandy
This book details the rich, complex and often difficult realities of the lives of immigrants in Malaysia – experiences that are, for the most part, hidden from public consciousness and awareness.
Parthiban Muniandy is a doctoral sociology student at the University of Illinois, United States. He has conducted fieldwork in Malaysia for the past seven years on the politics of temporary immigration in Malaysia, and published on religious movements and democratic politics in Malaysia.
Dr Mahathir's Selected Letters To World Leaders Vol 2
By Tun Dr Mahathir Mohamad
While Tun Mahathir governed Malaysia, he wrote to many world leaders. The missives presented in this volume – to Tony Blair, Bill Clinton, Lee Kuan Yew, Fidel Castro and Saddam Hussein, among others – argue contrasting positions on bilateral and joint relations, globalisation, as well as wars and conflicts.
Tun Dr Mahathir Mohamad was the fourth Prime Minister of Malaysia. He held the post for 22 years from 1981 to 2003, making him Malaysia's longest-serving Prime Minister.
School Stories, Travel Tales, Hotel Happenings
By Oh Teik Bin
A collection of 56 true stories of the author's life experiences: you will find stories which are hilarious, bizarre, adventurous, scary and thought-provoking. This book will tickle your funny bone, tug at your heartstrings and touch a chord of reflection.
Oh Teik Bin is a retired teacher. He has written more than 20 reference books for schools and also many books on motivation, inspiration and humour, with Wisdom From Laughter (2011) being one of his bestsellers.

A Rude Awakening: For A Boy With Autism
By Amelia Chin
The perseverance of a mother's love triumphs against all odds to unlock a maze – the little-known, atypical world of autism. The book unravels some spectrums of autism through the short, captivating accounts of a mother's own experiences.
Amelia Chin is a mother who seeks to provide the best care for her son Aaron. She teaches music, helps in the music ministry of her church, and is involved in supporting a group for mothers of special needs children.
Lim Kit Siang: Defying The Odds
By Ooi Kee Beng
Lim Kit Siang has been in the forefront of Malaysian politics since the late 1960s. This book captures the spirit of the Opposition stalwart's life, and describes the grim yet gratifying journey that his refusal to compromise on his political convictions has forced him to take.
Ooi Kee Beng is deputy director of the ISEAS-Yusof Ishak Institute, Singapore. He has written several books, including The Reluctant Politician: Tun Dr Ismail And His Time (2006), which won the "Award of Excellence for Best Writing Published in Book Form on Any Aspect of Asia (Nonfiction)" from the Asian Publishing Convention 2008; and Continent, Coast, Ocean: Dynamics Of Regionalism In Eastern Asia, which was named "Top Academic Work" in 2008 by the Asean Book Publishers Association.
The Moderates Umar Abdul Aziz & Nik Abdul Aziz
By Wan Ji Wan Hussin & Saifulamri M. Hussain
This book presents an overview of the traits of two moderates from different epochs. Umar Abdul Aziz was an ascetic caliph of the Umayyad, while Datuk Nik Abdul Aziz Nik Mat was a distinguished Malaysian politician and an influential scholar.
Wan Ji Wan Hussin is a writer and missionary activist who gives lectures and talks on Islam in mosques nationwide. Saifulamri Mohd Hussain is a journalist and former editor of tabloids and magazines.
Bangsa Melayu
By Ariffin Omar
This book is an innovative study of political ideology in two related but distinct Malay communities on Peninsular Malaya and East Sumatra at a time of tremendous political ferment.
The author analyses basic differences in thinking, temperament and attitude between the two groups, which lead to markedly different political outcomes.
Ariffin Omar is currently a senator representing Penang in the Malaysian Parliament. Now based at the Penang Institute, his research focuses on nations, nationalism, ethnic relations and religious freedom.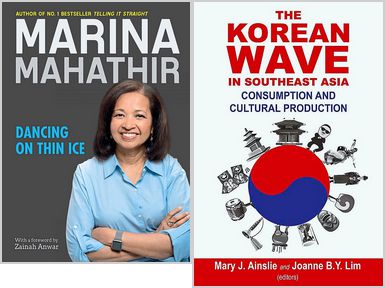 Dancing On Thin Ice
By Marina Mahathir
Marina Mahathir addresses issues that concern her and her fellow citizens in this latest collection of her newspaper column. She recalls conversations with Nelson Mandela, proposes Kuala Lumpur's National Mosque twin with St John's Cathedral, and applauds Malaysians who aid orphans of all faiths.
Datin Paduka Marina Mahathir was in the vanguard of HIV/AIDS activism in Malaysia and continues to work on advancing human rights for women and children. Her fortnightly column, Musings, has been in appearing in The Star since 1989.
The Korean Wave In Southeast Asia
By Mary J. Ainslie & Joanne B.Y. Lim
Focusing on the localisation and consumption of Korean TV dramas and other forms of youth culture within South-East Asia, this book offers a compelling analysis of the globalisation of "Hallyu", or Korean Wave.
Dr Mary J. Ainslie specialises in the cinema of South-East Asia and intercultural links throughout the region, specifically between East and South-East Asia. Dr Joanne B.Y. Lim is Associate Professor of Media and Cultural Studies and Deputy Head of the School of Modern Languages and Cultures, University of Nottingham, Malaysia.
—
The Popular-The Star Readers' Choice Awards are a precursor to BookFest@Malaysia 2016 which will take place from July 2 to 10 at the Kuala Lumpur Convention Centre. Star Media Group Bhd is a media partner of BookFest@Malaysia 2016.
Source: http://www.star2.com/culture/books/book-news/2016/05/01/2016-readers-choice-awards-nonfiction-nominees/