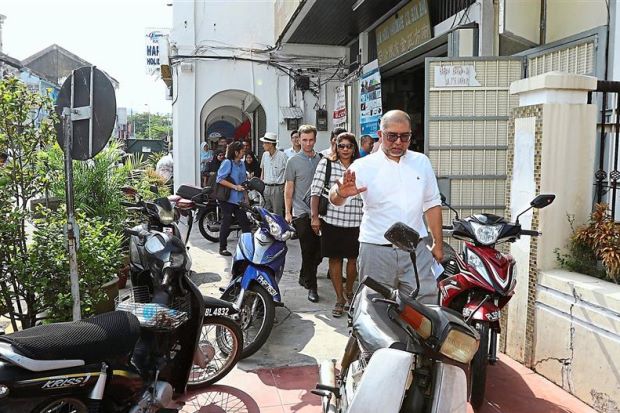 THE Penang Island City Council (MBPP) aims to make the walkways of Chulia Street free of most obstructions by the end of this year.
Councillor Muhammad Bakhtiar Wan Chik said the council's main focus would be to remove permanent blockages like fences and illegal structures along the walkways.
"We want to improve the 'walkability' in the city. According to the law, the five-foot ways are supposed to be free from any obstruction.
"We will not be prosecuting anyone but will engage the friendly approach when telling businesses and residents not to have any obstructions on the walkways," he told a press conference in Chulia Street yesterday.
Muhammad Bakhtiar said they also aimed to level the uneven pathways to make using them easier for the disabled and elderly.
"Individuals found obstructing walkways can be arrested by the police or enforcement officers from the local authorities.
"They can be charged in court and fined RM500 for the first offence and not more than RM1,000 for subsequent convictions."
Penang Institute Urban Studies head Stuart Macdonald, who is working closely with the council on the matter, said there were some 600 permanent obstructions along the walkways in the George Town heritage enclave.
"As part of the research we did in 2014, we marked the entire city.
"We marked the permanent blockages like fences and gates and temporary blockages like flower pots, disused masonry and workman materials.
"We also marked the number of motorcycles blocking the way.
"All these things make the city very unfriendly to pedestrians. We need to work with the business owners and residents on this matter."
Source: http://www.thestar.com.my/metro/community/2016/04/28/towards-a-more-walkable-city-council-aims-to-clear-pathways-in-chulia-street/