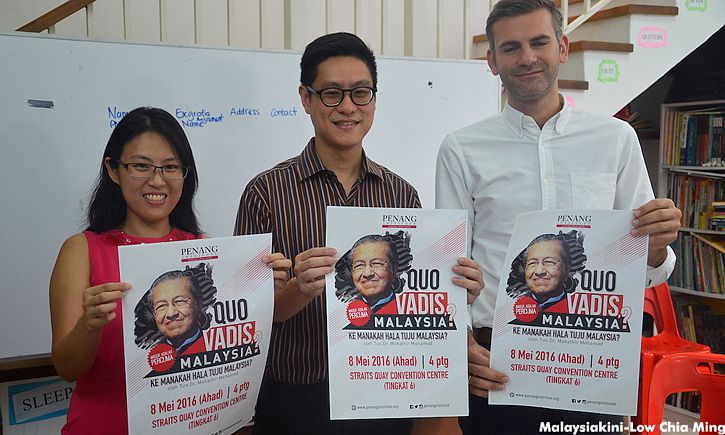 Former pime minister Dr Mahathir Mohamad's lecture titled 'Quo vadis, Malaysia?' will be hosted by the Penang state government's public policy think-tank Penang Institute (PI) on May 8.
It will be held at the Penang Strait Quay Convention Centre and the Penang Chief Minister Lim Guan Eng, who is also the PI chairperson, will be giving the keynote address at the event.
It is tradition for the think-tank to invite well-known personalities such as former Thai prime minister Abhisit Vejjajiva and former Indonesian president Bacharuddin Jusuf Habibie to share their views at the public lecture, said PI executive director Zairil Khir Johari.
"Now for the first time ever, the Penang Institute is inviting Dr Mahathir to speak in Penang," Zairil said at a press conference today, where PI chief operating officer Tim-Niklas Schoepp and senior executive officer Ong Siou Woon were also present.
The institute had started the Asean Coalition for Clean Governance (ACCG) and the inaugural conference was held in June 2012.
At that time, it had featured various leaders including Abhisit, while Habibie, who is widely credited as having played a pivotal role in engineering the birth of democracy in Indonesia, was featured in December 2012 during the second ACCG Leaders' Lecture.
Mahathir is the most suitable speaker to speak on the topic of 'Quo vadis, Malaysia?' as he was the prime minister of Malaysia for almost 22 years, Zairil said.
"We are so excited and would like to invite all Penangites to attend this public lecture and grab the opportunity to post question to the former prime minister," he said.
He also anticipated this to be the largest lecture organised by PI with more than 1,000 people attending the event, especially as the venue can accommodate about 2,000 people.
"He will talk about the future of our country… the public can get a lot of important insight from one of the (most) influential figures in the country," he said.
Asked if Mahathir's lecture will touch on the Citizens' Declaration, Zairil said the former prime minister will definitely mention the issue.
"Even if he doesn't say anything about that, I think the audience will ask him," he added.