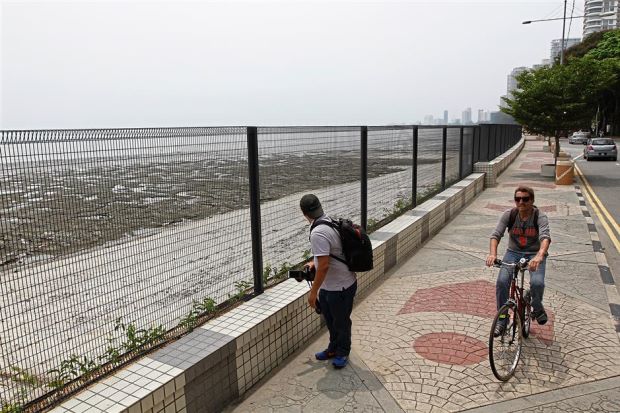 The RM1.3mil fencing along Gurney Drive to facilitate work on the Gurney Wharf development project in George Town.
MEMBERS of the public aresupportive of Penang's Gurney Wharf project according to asurvey carried out by the state, according to Penang Housing, Town and Country Planning Committee chairman Jagdeep Singh Deo.
"More than 80% of the 832 individuals and five organisations who responded to thepublic survey on the Gurney Wharf project gave theirsupport."
Jagdeep said 356 respondents also gave suggestions and some of them would be taken into consideration.
"Some requested more suitable parking spaces, more greenery, more shade in the park and better brighter lighting at night.
"Many of the respondentsalso thanked the state for the project which they said would transform the entire stretch of Gurney Drive," Jagdeep told a press conference on Saturday.
Also present was Chief Minister Lim Guan Eng.
Jagdeep said the five organisations that gave their feedback were the Consumers Association of Penang, Bella Vista Management Corporation, Regency Management Corporation, Penang Institute and Photosyn Sdn Bhd.
The exhibition and public feedback exercise were held from Feb 23 to March 6.
The proposed seafront public recreation area will be created on a 24.28ha plot of reclaimed land, using concepts inspired by internationally acclaimed parks and is set to be completed in 2020.
According to the plan, the seaside facilities would comprise a public waterfront promenade, dining outlets serving Penang's famed hawker fare and a pier.
The makeover includes creating a 400m sandy beach and a skate park while theexisting casuarina trees – asignature of Gurney Drive – would be preserved.
Lim, Jagdeep and several other exco members visited the 1.5km anti-climb mesh fencing from the Gurney Drive round-about to the southward end of Gurney Drive in Jalan Pangkor.
The fencing installation work, which started in late February, is expected to be completed in 12 months.
The cost of the fencing, which is 40 percent more than the standard metal sheet, is RM1.3 mil.
Source: http://www.thestar.com.my/metro/community/2016/04/04/on-the-right-track-strong-support-for-gurney-wharf-project-says-state/