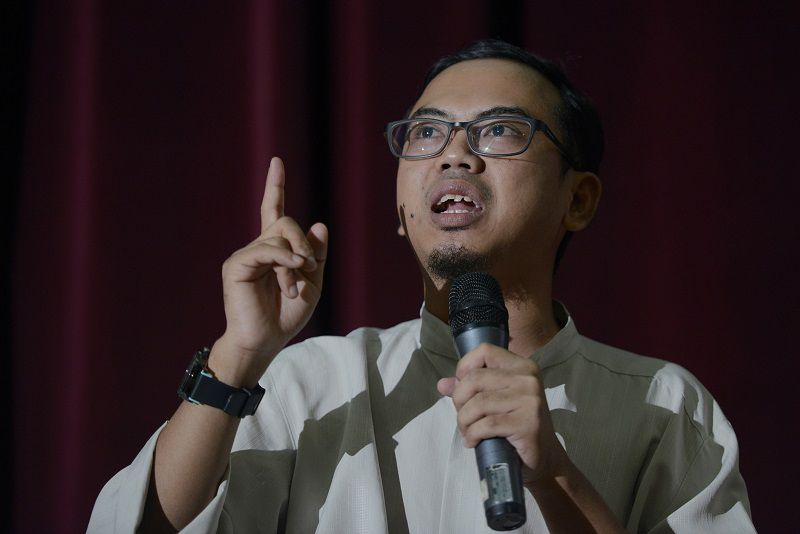 Preacher Wan Ji Wan Hussin speaks during a forum on 1Malaysia Development Berhad, accountability, and Maqasid Shariah.at Bandar Perda in Penang yesterday. – The Malaysian Insider pic by Hasnoor Hussain, January 20, 2016.
Opposition parties must walk the talk and have their elected reps declare their assets, says Muslim preacher Wan Ji Wan Hussin.
He said this was a matter he had raised many times in Kelantan when he was still a member of PAS.
"I raised three major issues in Kelantan when I was a PAS member. Declaration of assets was one of them.
"I felt PAS as an Islamic party would be better than others, so the declaration of assets (by its elected reps) should have been done. But Kelantan did not do that," he said during a Penang Institute forum yesterday on 1Malaysia Development Berhad, accountability, and Maqasid Shariah.
Maqasid Shariah is an Islamic principle of governance that emphasises the common good.
Wan Ji, now a PKR member, said he hoped the Pakatan Harapan governments could see to making the declaration of assets a practice in their administrations.
He was responding to a question from a member of the audience at the forum moderated by oderated by Dr Mustafa Kamal Anuar in Bandar Perda, Bukit Mertajam.
The participant said opposition parties had challenged Barisan Nasional (BN) to have their politicians declare their assets and two general elections had passed since.
Now that opposition parties also held positions of power and formed state governments, the parties should also do what they had told BN to do and lead by example, he said.
Among the opposition parties with state governments, only DAP and PKR in Penang and Selangor had directed its elected reps to declare their assets.
Wan Ji said he also urged the Kelantan government to set up "hisbah" – the state's public accounts committee – and was attacked and jeered.
"Setting up the committee was an election promise in 1999, but it has yet to be fulfilled until today," he said.
He said he raised the uncontrolled logging issue in Kelantan, writing about it as early as 2010, and was also attacked and accused of trying to ruin the Islamist government.
He also proposed that the tenure of service for prime minister, menteri besar, and chief minister be limited to two terms if Pakatan Harapan came into power.
Parit Buntar MP and Parti Amanah Negara vice-president Datuk Mujahid Yusof Rawa (pic) seconded Wan Ji, saying two terms that would span 10 years should be sufficient for government leaders to implement their policies.
He said leaders when they were first elected were good, but over time they would change due to the influence of those around them if they stayed in power for too long.
On corruption in political parties, Mujahid said election funds should come from the federal government so candidates need not resort to donations from other sources such as companies, which would unlikely give sponsorships for nothing. – January 20, 2016.
Source: http://www.themalaysianinsider.com/malaysia/article/walk-the-talk-on-declaring-assets-preacher-tells-opposition