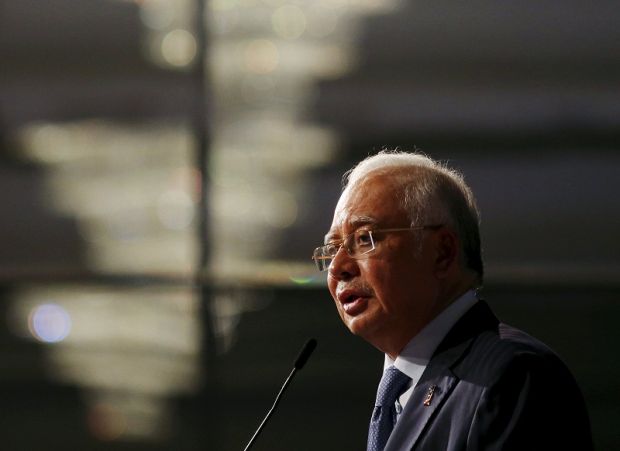 Prime Minister Datuk Seri Najib Razak is due to table his sixth Budget tomorrow. ― File pic
KUALA LUMPUR, Oct 22 ― Falling oil prices that has hurt government revenue and high public debt means Putrajaya is unlikely to table a "feel-good" Budget for all households, with the middle-class again set to miss out, think-tank Penang Institute predicted.
It said both factors will compel Putrajaya to keep spending down while maintaining existing tax rates to sustain income.
The think-tank also expects more subsidy cuts as Putrajaya will aim to trim its expenses while no individual income tax cut would be made, a move that could push up inflation but necessary for Putrajaya to demonstrate its ability to reduce a chronic deficit.
"Budget 2016 will not be a feel-good budget for all households. The budget would incline towards restoring investors' and credit rating agencies' confidence, encourage businesses and trades, and alleviating the plight of lower income households," the group said in a statement.
Prime Minister Datuk Seri Najib Razak is due to table his sixth Budget tomorrow.
In its forecast of the Budget, the think tank listed an expansion of the 1Malaysia People's Aid (BR1M) cash aid, further exemptions of the Goods and Services Tax (GST) that it said would be kept at 6 per cent, and policy announcements to boost confidence in the financial market.
"With the reduction in subsidies and full implementation of GST, BR1M is expected to be increased. Whilst BR1M will reduce the impact of subsidy reduction and GST implementation on the lower income households, the households who do not receive BR1M will find their standard of living be squeezed further," it said.
This means the middle-class will be the biggest loser as cost of living will continue to increase while spending power stagnates since Putrajaya is not likely to reduce personal tax rates.
"However, corporate tax rate for small and medium-sized enterprises might be lowered to help them withstand the economic slowdown".
Najib has said that he will ensure that households in the bottom 40 per cent continue to have opportunities for and access to higher education as well as skills training so that they have stable and better jobs.
The prime minister previoulsy said that Budget 2016 would be "one of the most difficult" to be tabled as the government is forced to commit to its fiscal deficit programme amid a severely weak ringgit triggered by global oil price drop and a domestic political crisis.
Source: http://www.themalaymailonline.com/malaysia/article/budget-2016-wont-be-sweet-for-all-think-tank-suggests