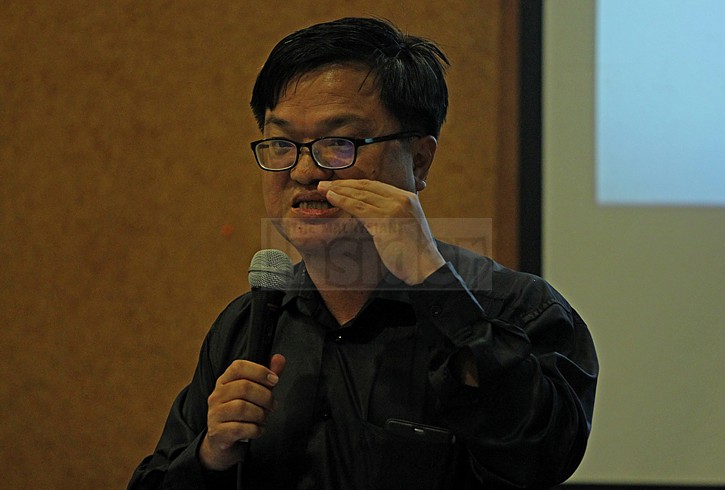 Penang Institute fellow Dr Wong Chin Huat talks about local government elections for Kuala Lumpur at a forum in Kuala Lumpur today. – The Malaysian Insider pic by Seth Akmal, January 17, 2015.
There is no difference between the federal government and the mafia as far as Kuala Lumpur's ratepayers are concerned as taxes are being paid without representation, Penang Institute fellow Dr Wong Chin Huat told a forum today.
"Kuala Lumpur does not have state elections. The City Hall Mayor is appointed by the federal government in Putrajaya.
"Ratepayers are not represented. They are merely paying taxes in return for services. This is akin to the mafia, which collected money in return for services," Wong said, at the "Why the need for elections in Kuala Lumpur?" forum at the Kuala Lumpur and Selangor Chinese Assembly Hall.
"Taxation without representation is what drove America to seek independence from the British empire as the Americans did not have a voice speaking out for them.
"The British Empire was collecting taxes from America but refused to allow them to have representation. This is how the United States came into existence."
Wong said it was a similar case for residents in Kuala Lumpur as they were paying taxes but were not represented at the state level.
Harakah founder Ishak Surin said opportunities had been given to Barisan Nasional to develop Kuala Lumpur over the past 50 years.
"The time has come for residents in Kuala Lumpur and ratepayers to unite and develop their city. We want the freedom to be able to choose who we want to represent us," Ishak added.
Wong said many issues in Kuala Lumpur stemmed from the fact that the mayor was appointed by Putrajaya and not by its people.
"If we look at the corporate world, nobody is given a major position without undergoing a baptism of fire to test their mettle, nerves and skills," he added.
Wong cited the example of Joko Widodo, Ma Ying-jeou, Mahmoud Ahmadinejad and Jacques René Chirac as leaders who had proven themselves at a lesser position first.
"All of these leaders once served in a lower capacity and proved their capabilities before ascending to a higher office," Wong said, adding that city folks did not have such options.
He said city residents had not been consulted by the Kuala Lumpur administration before several major roads were renamed recently after previous kings, or Yang Di-Pertuan Agong.
"Years from now, Kuala Lumpur will earn the nickname 'city of a thousand kings' if this practice continues," Wong said.
He added that the development of Kampung Baru was another issue which would not only affect residents, but also those in the vicinity of the area.
Wong said the current administration ran Kuala Lumpur like their own fiefdom, never consulting the residents for their thoughts, opinions and feedback.
"There is no accountability, although Kuala Lumpur has the third largest budget allocation behind Sabah and Sarawak," Wong said.
He said it was time to remove the perception or fear of a non-Malay individual being appointed as the mayor of Kuala Lumpur.
He added that a non-Malay mayor was not a problem if it was the people's choice. – January 17, 2015.
Source: http://www.themalaysianinsider.com/malaysia/article/kl-needs-local-government-polls-think-tank-tells-forum