PENANG-BORN US economist Dr Woo Wing Thye, 57, will helm Penang Institute formerly known as the Socio-Economic & Environmental Research Institute (SERI) in March next year.
Dr Woo will replace Bukit Bendera MP Liew Chin Tong who has held the executive director's post for two years.
Chief Minister Lim Guan Eng made the announcement during the inauguration of Penang Institute at the Town Hall on Friday.
Liew said the move was timely since he was holding the post in a transitional role.
"I'm a politician and it's better that the position is filled by an economist.
"Penang Institution is fortunate as Dr Woo comes with an impressive resume," he said.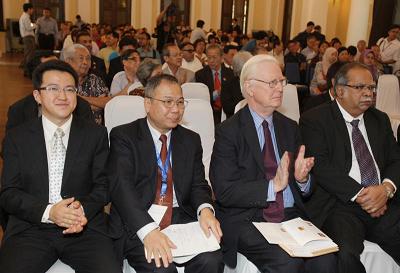 Think tank's new name: (from left) Liew, Dr Woo, Prof Mirrlees and Dr Ramasamy attending the inauguration of Penang Institute at the Town Hall
Dr Woo is currently Professor at the University of California at Davis and Senior Fellow of the renowned Brookings Institute.
His research focuses on economic issues of East Asia, international financial architecture, state enterprise restructuring, fiscal management and exchange rate economics.
Between 1997 and 1998, he served as a special advisor to the United States Treasury, and from 2002 to 2005, he was special advisor for East Asian Economies in the Millennium Project of the United Nations.
In July 2005, he was appointed a member of the International Advisory Panel which was convened by the then Prime Minister (Tun) Abdullah Badawi to assist Malaysia.
He was appointed chairman of the International Economic Advisory Panel to the Penang Chief Minister in April 2009.
Dr Woo said Penang Institute would continue SERI's tradition of excellence in research.
SERI was formed in 1997. It was renamed Penang Institute on Aug 1 this year as part of its transformation process.
Deputy Chief Minister I Datuk Mansor Othman, Deputy Chief Minister II Dr P. Ramasamy, Pantai MP Nurul Izzah Anwar, Parit Buntar MP Dr Mujahid Yusof Rawa as well as some exco members, assemblymen and academicians also witnessed the inauguration.
During the event, Professor Sir James Mirrlees, winner of the 1996 Nobel Prize in economics, gave a lecture on global finance.
This article appeared in The Star, December 14th 2011.