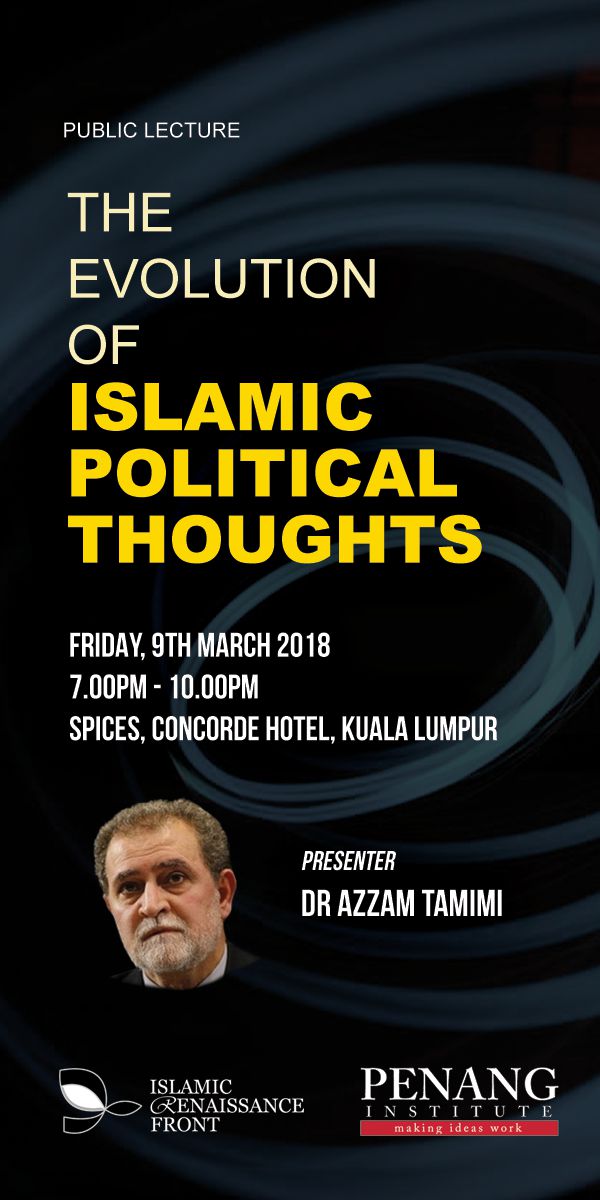 The Penang Institute and Islamic Renaissance Front are proud to host "The Evolution of Islamic Political Thoughts", a Public Lecture featuring Dato' Dr Ooi Kee Beng and Dr Azzam Tamimi.
Date : 9 March 2018 (Friday)
Time : 7:00pm – 10:30pm (Registration starts at 6:30pm)
Venue : Spices, Concorde Hotel, Kuala Lumpur
Ennahda, one of the most influential political parties in the Arab world and a major force in Tunisia's emergence as a democracy, recently announced a historic transition. Ennahda has moved beyond its origins as an Islamist party and has fully embraced a new identity as a party of Muslim democrats. Ennahda is no longer both a political party and a social movement. It has ended all of its cultural and religious activities and now focuses only on politics.
Ennahda's evolution mirrors Tunisia's broader social and political trajectory. The party first emerged as an Islamist movement in response to repression at the hands of a secularist, authoritarian regime that denied citizens religious freedom and the rights of free expression and association. For decades, Tunisian dictators shut down all political dis­course in the country, forcing movements with political aims to operate exclusively as social and cultural organizations. But the Jasmine revolution brought an end to authoritarian rule and opened up space for open, free, and fair political competition.
Tunisia's new constitution, which Ennahda members of parliament helped draft and which was ratified in 2014, enshrines democracy and protects political and religious freedoms. Under the new constitution, the rights of Tunisians to worship freely, express their convictions and beliefs, and embrace an Arab Muslim identity are guaranteed, and so Ennahda no longer needs to focus its energies on fighting for such protections. Therefore, the party no longer accepts the label of "Islamism"—a concept that has been disfigured in recent years by radical extremists—as a description of its approach. In this new democratic stage of Tunisian history, the question is no longer one of secularism versus religion. Today, Tunisians are less concerned about the role of religion than about building a governance system that is democratic and inclusive and that meets their aspirations for a better life. Ennahda instead aims to find solutions to matters of concern to all of the country's citizens and residents.
What then could we, in this country, learn from the evolution of Ennahda specifically and that of the Islamic political thought in general.
Programme:
6.30-7.00 pm: Registration
7.00-8.00 pm: Dinner & Solat
8.00-8.10 pm: Opening speech by Elma Berisha
8.10-8.30 pm: Welcoming Speech Dato' Dr Ooi Kee Beng, Executive Director, Penang Institute
8.30-9.30 pm: Speech by Dr Azzam Tamimi
9.30-10.30pm: Q&A Moderated by Dato' Dr Ahmad Farouk Musa
10.30 pm: End

ABOUT THE SPEAKERS
Dato' Dr Ooi Kee Beng is the Executive Director of Penang Institute, prior to which he was Deputy Director of ISEAS – Yusof Ishak Institute, Singapore. He was a long-term lecturer in Chinese Political Philosophy and Chinese History at Stockholm University. His latest books include The Eurasian Core and its Edges: Dialogues with Wang Gungwu on the History of the World (2016).
Dr Azzam Tamimi is a British Palestinian academic and political activist. He currently is chairman and editor in chief of Ahiwar TV Channel. He is the director of Institute of Islamic Political Thought in London and appears regularly on al-Jazeera, Press TV and other Arabic and English language television stations, and frequently publishes opinion pieces in the Guardian. He is also a prominent member of the Muslim Association of Britain and the Stop the War Coalition. Dr Azam Tamimi has written several books on Middle Eastern and Islamic politics, including Rachid Ghannouchi: A Democrat within Islamism and Hamas: A History from Within. Dr. Azzam was born in 1955 and lived in Hebron in the Palestinian Territories until he was seven, when his family moved to Kuwait. After high school, Dr Azzam moved to London for college, receiving a B.S. in Combined Sciences in 1979 from the University of Sunderland. He received a Ph.D. in Political Theory from the University of Westminster, London in 1998.
Kindly register your interest here. Please feel free to share this invitation to your family and friends.