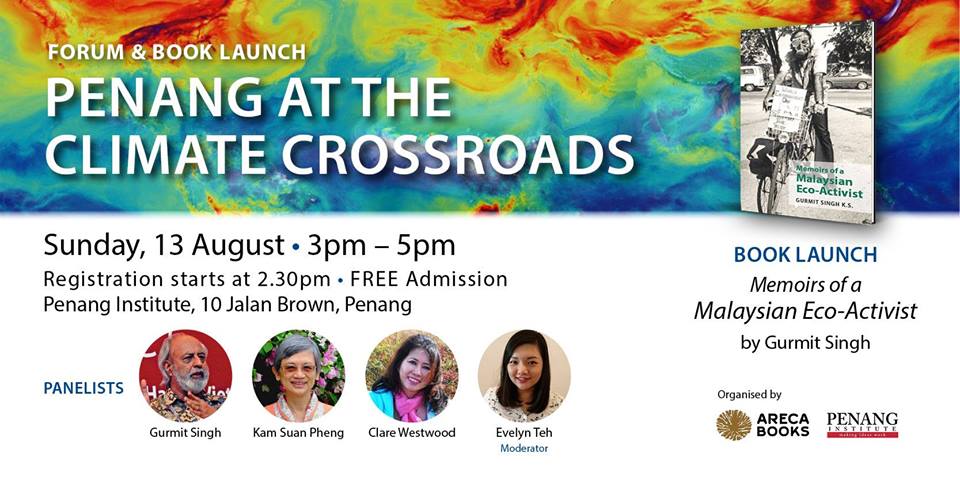 Penang Institute and Areca Books are pleased to invite you to a climate change forum, entitled 'Penang at the Climate Crossroads'. In conjunction with this forum we are holding the Penang launch of the book Memoirs of a Malaysian Eco-Activist by Gurmit Singh. The event is scheduled as follows:
Date: 13 August 2017 (Sunday)
Time: 3.00pm (Registration starts at 2.30pm)
Venue: Penang Institute, No. 10, Jalan Brown, George Town, Penang
While incidents of climate change-related disasters are reported from across the world, Malaysia, and specifically Penang, appear to remain relatively indifferent to the threats of global warming and rising sea levels. As a signatory to the Paris Agreement, Malaysia should be taking positive steps to cut down emissions and build climate change resilience. This forum explores Penang's place in the climate change timeline and the transformation required at the local level for a sustainable future.
Penang Institute, the public policy think tank of the Penang state government, is pleased to co-host 'Penang at the Climate Crossroads' along with Areca Books. In conjunction with this forum, the Penang launch of Memoirs of a Malaysian Eco-Activist by Gurmit Singh, published by Areca Books, will be officiated by Dato' Dr Anwar Fazal, recipient of the Right Livelihood Award.
____________________________________________________
THE PANELISTS
Gurmit Singh is the author of Memoirs of a Malaysian Eco-Activist. He is a pioneering Malaysian environmentalist and human rights activist. Hailing from Penang, he has spent most of his working life in Kuala Lumpur. He founded two NGOs – EPSM and CETDEM – and represented Malaysia at various international environmental for. He was conferred the Langkawi Environmental Award in 1993. He represented Malaysian and Southeast Asian NGOs in numerous international meetings on climate change in the 1990s.
Dr Kam Suan Pheng holds a doctorate from Cornell University, has been an academic with Universiti Sains Malaysia, as well as a scientist with the International Rice Research Institute Philippines and the WorldFish Centre. Her research interest is in integrative approaches for natural resources assessment, planning and management through the use of geospatial technologies. With her expertise in biology, soil science and biometrics, she has developed GIS applications for coastal resources evaluation and zoning, landuse planning, agro-ecological analysis, soil erosion modelling, delineating recommendation domains for target agricultural and aquaculture technologies and assessing impacts of climate change on food production with a spatial perspective.
Clare Westwood holds an MBA and has had extensive experience in the areas of food, agriculture, biosafety, food sovereignty, and climate change resilience, mainly through working with NGOs serving poor rural communities across Asia. Clare is currently the Head of the Creation Justice Commission of the Roman Catholic Church in the Diocese of Penang. She is also a writer and researcher for Third World Network, an international NGO.
MODERATOR
Evelyn Teh is a senior analyst at Penang Institute with a Masters in Environmental Management, with expertise in environmental impact assessment, natural resources sustainability and climate change impacts (coastal vulnerability). She has been awarded a Chevening Scholarship to pursue her second masters in Urban Studies.
_____________________________________________________
ABOUT THE BOOK
Memoirs of a Malaysian Eco-Activist chronicles the life of Gurmit Singh K.S., from his childhood as a self-professed bookworm to a vociferous human rights and environmental advocate. Born in 1942 to Punjabi parents in Japanese-occupied Malaya, Gurmit went on to found two pioneering NGOs – Environmental Protection Society, Malaysia (EPSM) and Centre for Environment, Technology and Development, Malaysia (CETDEM). At various national and international fora. including the UNFCCC COP, Gurmit not only put forward the Malaysian perspective, but also spoke up for the 'third world' and the global good. He was conferred the Langkawi Environmental Award in 1993. The book has been published by Areca Books.
Read more at http://www.star2.com/people/2017/04/30/gurmit-singh-memoirs/#hoAFTbCWGTjjBXfh.99
Please click here for registration.