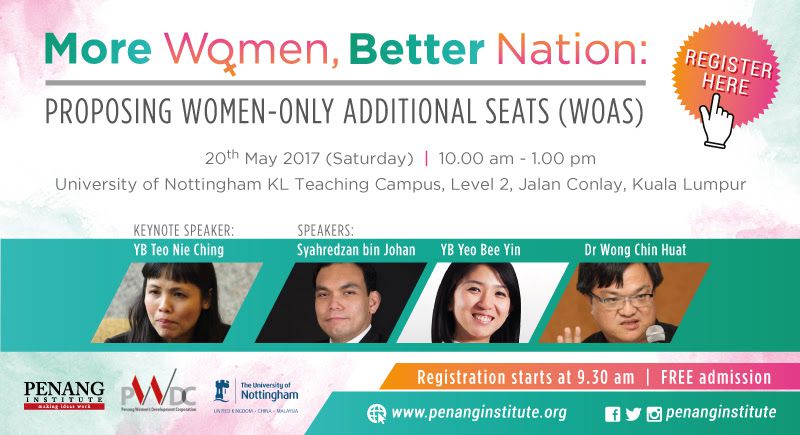 Penang Institute in KL, in collaboration with the Penang Women's Development Corporation (PWDC) will conduct a talk entitled More Women, Better Nation : Proposing Women-Only Additional Seats (WOAS). You are cordially invited to attend this workshop as scheduled below:-
Date : 20 May 2017 (Saturday)
Time : 10.00am – 1.00pm (Registration start at 9.30am)
Venue : University of Nottingham KL Teaching Campus, Level 2, Jalan Conlay, Kuala Lumpur
DESCRIPTION
Currently, there is an obvious gender gap in political representation. The ongoing debate on increasing the number of women representatives in our state and national legislatures was focused on changing the current First Past and Post (FPTP) to a more proportional electoral system (PR). Since the current federal government and the Elections Commission is unlikely to embark on such an electoral reform, the Penang Women's Development Corporation (PWDC) and the Penang Institute aim to raise awareness on another possibility which may be implementable at the state level via the introduction of "Women-Only Additional Seats (WOAS)".

WOAS is an innovative way of providing gender quota through the creation of "non-constituency seats" to be proportionally allocated after election to all parties, based on their vote shares. Through this initiative, specialized lawmakers from civil society will be provided a seat at the have the table. Such allocations also have the possibility to increase overall representation from minority groups.
In the long run, WOAS can pave the way for full-fledged switches to other electoral systems such as "Mixed Member Proportional" (MMP) in Germany and New Zealand, or the "Mixed Member Majoritarian" (MMM) in Japan, Korea and Taiwan. Both MMP and MMM also have "non-constituency seats" where gender and other quota can be easily introduced but voters will have two votes, one for their constituency representative as in our current system, and another vote for their preferred party.

Is Malaysia ready for such an electoral reform? Would WOAS reduce the gender gap in politics in Malaysia? Are such reforms constitutional? Come and join the discourse with us this 20th May (Saturday), from 10am at the University of Nottingham KL Teaching Campus.
FREE ADMISSION! Due to limited seats, registration is encouraged. Kindly register your interest at this link.