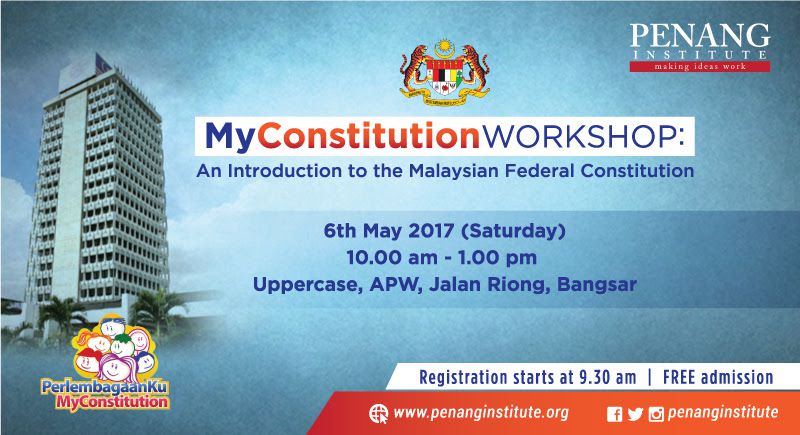 Penang Institute in KL, in collaboration with the Bar Council Constitutional Law Committee will conduct a half day workshop on the Federal Constitution. You are cordially invited to attend this workshop as scheduled below:-
Date : 6 May 2017 (Saturday)
Time : 10.00am – 1.00 (Registration start at 12.30am)
Venue : Uppercase, APW, Jalan Riong, Bangsar, Kuala Lumpur
DESCRIPTION
How long has it been since you read the Malaysian Federal Constitution? As a citizen, do you know what this document means, and its role in our country? Have you studied it with a view to understanding how it impacts your daily life?

Many of us know of the Constitution but fail to appreciate its significance as the highest source of law in the land.

This workshop aims to improve awareness and promote constitutionalism among Malaysians. In a two-module session, participants will be given an introduction to the principles enshrined in the Constitution, as well as the Universal Declaration of Human Rights.
FREE ADMISSION! Due to limited seats, registration is encouraged. Kindly register your interest at this link.