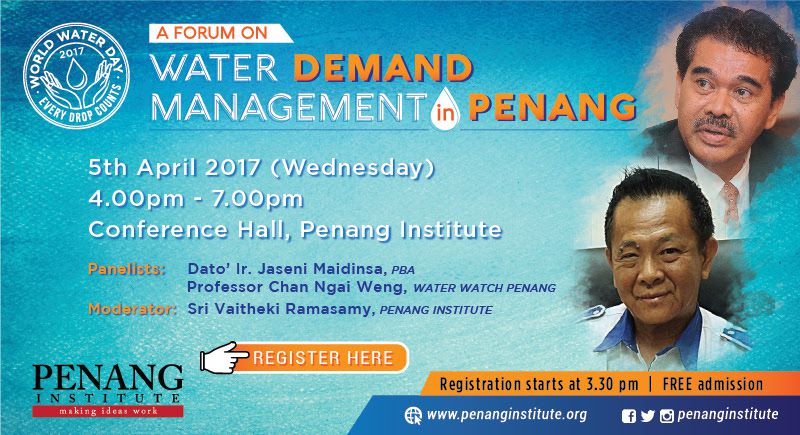 Penang Institute, the public policy think tank of the Penang state government is proud to host a Forum entitled Water Demand Management in Penang which is scheduled as follow:
Date : 5th April 2017 (Wednesday)
Time : 4.00pm (Registration starts at 3.30pm)
Venue : Conference Hall 1, Penang Institute, No. 10, Jalan Brown, George Town, Penang

In line with the World Water Day 2017, Penang Institute is organising a forum on water demand management in Penang. The aims of the forum are to create awareness amongst Penangites on the importance of water demand management and conservation, to highlight the measures that can be taken to ensure water sustainability, and finally to provide a platform for Penangites to share and discuss their ideas and concerns on water management in Penang. The forum will also highlight the key strategies and measures that are currently being undertaken by PBA to manage the water supply and demand in Penang.
We are proud to be hosting two prominent speakers in the water industry, Dato Ir Jaseni Maidinsa and Professor Chan Ngai Weng from PBA and Water Watch Penang respectively at this forum. We believed that their vast experience in the water industry will help us understand the importance of tackling water demand management in this water-scarce state.
Due to limited seating for each of the forums, we require your kind assistance to reserve your participation as soon as possible. Please click here for registration.