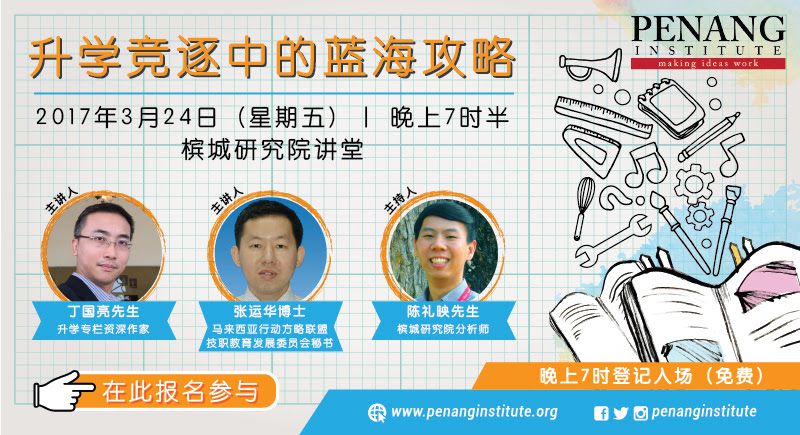 Penang Institute, the public policy think tank of the Penang state government is proud to host another mandarin forum entitled "Higher Education: The Road Less Traveled" which will be scheduled as follow:-
Date : 24 March 2017 (Friday)
Time : 7.30pm (Registration starts at 7.00pm)
Venue : Conference Hall 1, Penang Institute, No. 10, Jalan Brown, George Town, Penang

Nurturing the next generation through education is a key foundation in enhancing future development of a country. However, a majority of parents expect their children to make outstanding achievements into prestigious university, and most parents believe their children will have a brighter future by choosing a career of one of the "Top 5" (medical doctors, lawyers, engineers, accountants, and architects). In contrast, those courses which least favoured by students, such as art, music, history, and other humanity-related courses, are regarded as "unpopular". In addition, the technical education and vocational training courses are often neglected as a choice by most parents and students. This forum aims to help improve public's understanding that there are career options available than the currently preferred ones.
This topic has, of course, been on the lips of many Malaysians for a while now. And this topic is timely with the recent release of both STPM and SPM results. We are proud to have invited Mr. Teng Kok Liang, education advancement columnist, and Dr. Chang Yun Fah, Secretary of GBM-TVET Development Committee to share their perspectives on this timely topic.
Due to limited seating, we encourage you reserve your participation here as soon as possible. For further enquiries, please contact Mr Tan Lii Inn at 04- 228 3306 ext 216.
---
此次座谈会邀请了丁国亮先生(升学专栏资深作家)和张运华博士(马来西亚行动方略联盟技职教育发展委员会秘书)担任主讲人。
教育,是培育下一代的摇篮,更是强化一个国家未来发展的关键根基。因此,"再穷也不能穷教育"成了华社代代相传的观念和理念。论及教育,绝多数家长都期望孩子们可以考取杰出的成绩进入卓越的大学就读,常以医师、律师、工程师、会计师和建筑师等专业是尚,认为这些行业不但可以为孩子们带来光明的前途,更可以保障他们的"钱途"。
相对而言,大学里的其他科系如美术、音乐、历史等人文科系却因少数学子的修读而被视为"冷门"科系。我国的技术职业训练课程往往被多数家长和学子忽略。槟城研究院希望透过这一场座谈会,让更多人深入了解除了专业学科以外,还有其他的选项可供考量和选择。
座位有限,请按此报名参与。