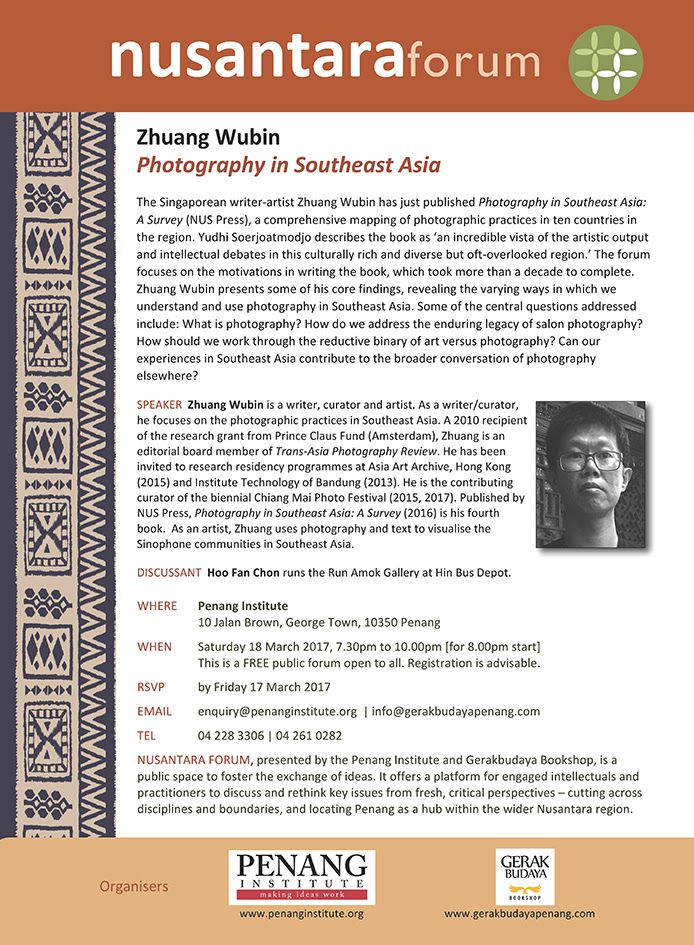 The Singaporean writer-artist Zhuang Wubin has just published Photography in Southeast Asia: A Survey (NUS Press), a comprehensive mapping of photographic practices in ten countries in the region. Yudhi Soerjoatmodjo describes the book as 'an incredible vista of the artistic output and intellectual debates in this culturally rich and diverse but oft-overlooked region.' The forum focuses on the motivations in writing the book, which took more than a decade to complete. Zhuang Wubin presents some of his core findings, revealing the varying ways in which we understand and use photography in Southeast Asia. Some of the central questions addressed include: What is photography? How do we address the enduring legacy of salon photography? How should we work through the reductive binary of art versus photography? Can our experiences in Southeast Asia contribute to the broader conversation of photography elsewhere?
SPEAKER Zhuang Wubin is a writer, curator and artist. As a writer/curator, he focuses on the photographic practices in Southeast Asia. A 2010 recipient of the research grant from Prince Claus Fund (Amsterdam), Zhuang is an editorial board member of Trans-Asia Photography Review. He has been invited to research residency programmes at Asia Art Archive, Hong Kong (2015) and Institute Technology of Bandung (2013). He is the contributing curator of the biennial Chiang Mai Photo Festival (2015, 2017). Published by NUS Press, Photography in Southeast Asia: A Survey (2016) is his fourth book. As an artist, Zhuang uses photography and text to visualise the Sinophone communities in Southeast Asia.
DISCUSSANT Hoo Fan Chon runs the Run Amok Gallery at Hin Bus Depot.