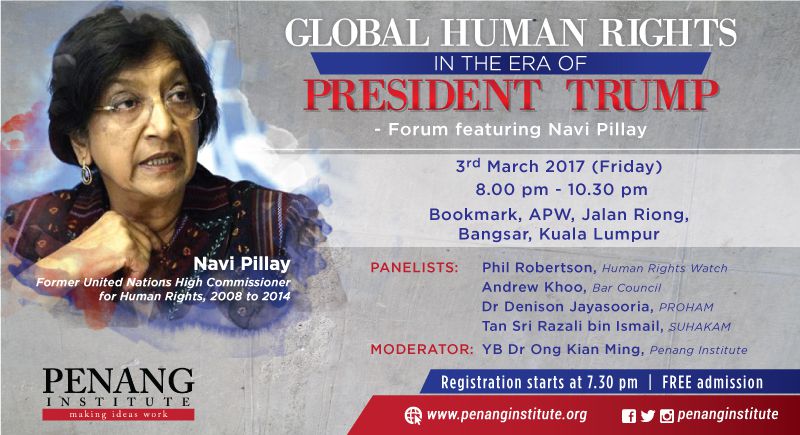 Penang Institute in KL is proud to invite Navi Pillay (Former United Nations High Commisioner for Human Rights, 2008-2014) as our speaker for a forum entitled "Global Human Rights in the Era of President Trump". You are cordially invited to attend this lecture as scheduled below:-
Date : 3 March 2017 (Friday)
Time : 8.00pm – 10.30 (Registration start at 7.30pm)
Venue : Bookmark, APW, Jalan Riong, Bangsar, Kuala Lumpur
DESCRIPTION
2017 will likely be a very grim year for human rights advocates around the globe, with looming challenges including the continued backlash against the flow of refugees from the Middle East, the continued anti-globalisation and anti-free trade backlash and the uncertainty generated by the policies of the Trump administration.
While it may seem like too big of a 'fish' to swallow in Malaysia, society should be encouraged to have open discussions on the different challenges confronted by human rights on a national, regional and global perspective. Doing so will not only help create an educated, well-informed and contextualized discourse but also enable the formation of strategies in response to these global challenges.
Penang Institute in Kuala Lumpur will be organizing a forum entitled "Global Human Rights in the era of President Trump" as a platform to debate these issues.
The forum will be held on Friday, 3rd of March, 2017 at Bookmark, APW, Jalan Riong, Bangsar, Kuala Lumpur from 8p.m. to 10.30 p.m.
The panel will feature distinguished speakers including Ms Navi Pillay, the former United Nations High Commissioner for Human Rights, Datuk Dr Denison Jayasooria, Secretary General of the Society for the Promotion of Human Rights, Malaysia (PROHAM), Phil Robertson, deputy director of Human Rights Watch Asia, Andrew Khoo from Bar Council and Tan Sri Razali bin Ismail (SUHAKAM) with Dr Ong Kian Ming, General Manager of Penang Institute in Kuala Lumpur, moderating the discussion.
It is inevitable that any discussion of global human rights so early in 2017 will be somewhat speculative. Nevertheless, certain actions taken by the U.S. government have already raised disturbance, to say the least. This forum is but a small step towards a larger discussion that is ongoing in Malaysia and around the world.
FREE ADMISSION! Due to limited seats, registration is encouraged. Kindly register your interest at this link.