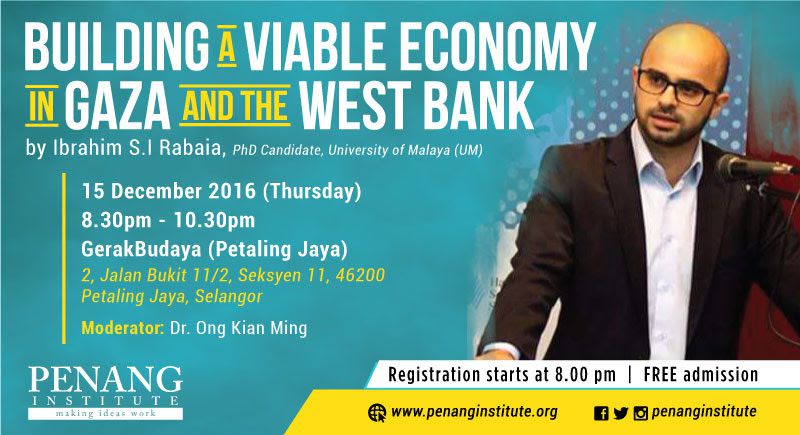 Penang Institute in KL, is proud to bring you a seminar entitled Building a Viable Economy in Gaza and the West Bank. You are cordially invited to attend this seminar as scheduled below:-
Date : 15 December 2016 (Thursday)
Time : 8.30pm – 10.30pm (Registration starts at 8.00pm)
Venue : GB Gerak Budaya, 2, Jalan Bukit 11/2, Seksyen 11, 46200 Petaling Jaya Selangor
DESCRIPTION
Various economic development models have been proposed for developing countries by economists, think tanks and international organizations such as the World Bank. Neo-liberal policies consisting of decreasing the role of the state and deregulating the economy have been pushed on many developing countries as part of the conditions attached to seeking foreign aid from developed nations as well as from seeking credit from the World Bank and the IMF. How much success have these models had in an 'occupied' territories like the West Bank and Gaza? Do these policies make sense in the context of severely limited sovereignty on the part of the governments in the West Bank and Gaza? What is the real economic situation 'on the ground'? Ibrahim Rabaia will share his thoughts and experiences as an academic, as a former government official in the West Bank, and as someone who grew up in the West Bank on this important issue.
ABOUT THE SPEAKER
Ibrahim Rabaia is currently a PhD candidate at the University of Malaya at the Faculty of Economics and Administration (FEA). He was born and grew up in Ramallah, West Bank (please check). Before embarking on this PhD at UM, Ibrahim was a newspaper editor, a sports report and analyst, a radio announcer and a policy planner. He is a recipient of the Khazanah Asia Scholarship. He holds a Masters in International Development from Korea University in Seoul and a Masters in International Studies from Birzeit University in Ramallah, Palestine. His research interests are in Political Transitions and Revolutions, the politics of the Middle East, Political Islam and Public Policy.
FREE ADMISSION! Due to limited seats, registration is encouraged. Kindly register your interest at this link.