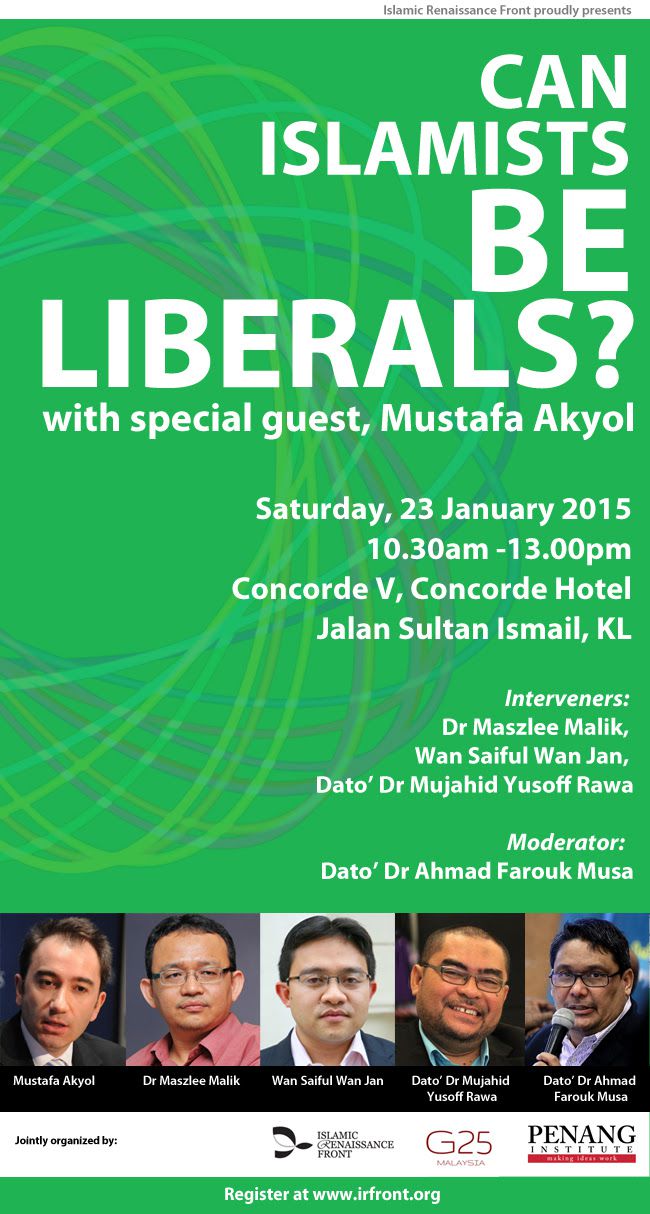 Date: Saturday, 23rd January 2016
Time: 1000AM – 1PM
Venue: Concorde V, Concorde Hotel, Jalan Sultan Ismail, Kuala Lumpur
Registration: https://www.eventbrite.com/e/forum-on-can-islamists-be-liberal-tickets-20799492843
Since Arab Spring, new wave of Islamic Political Movement seems to emerge from every corner of the world, waving the flags of democracy as a sign of their commitment to democratic participation in politics. Some termed this as the "second generation of Islamist", while others, who are more pessimistic, see this as the return of the old conservative Islamic politics disguised behind the cloak of democratic rhetoric.
Nonetheless one cannot deny that the Arab Spring has opened up a new political space and has motivated many Islamic organizations – some of them were long perceived as opponents of the democratic system – to now joyfully participating in it.
With all these hype it is important to remind us that democracy is more than just getting to vote. For people in the West, democracy means 'liberal democracy': that is a political system marked not only by free and fair elections but also by the rule of law, a separation of powers, and the protection of basic liberties of speech, assembly, religion, and property.
A simple survey of the democratic condition of Muslim countries around the world seems to suggest that while most of them embraced democracy, the basic freedoms and rights are still not fully respected.
Take the ten countries most closely associated with Islam: Saudi Arabia, Jordan, Egypt, Syria, Libya, Iran, Iraq, Pakistan, Turkey, and Afghanistan. These are the countries that have Muslim population more than 90%. According the 2014 Democratic Index, seven of these ten countries were listed as "authoritarian regimes".
The other three – Iraq, Pakistan, and Turkey- are only considered "hybrid regimes", which means that while the election still took place, the leaders of the country still have a heavy hand.
Against this background, this roundtable discussion will try to ask and examine some of the issues: Are there any problems between Islam and the idea of Liberty? If not, why are most of the Muslim majority countries failed to adhere to these values?
Program
1000-1030: Registration
1030-1035: Welcoming speech by Chairperson, Dr Elma Berisha
1035-1050: Opening speech by YB Zairil Khir Johari
1050-1100: Speech by Moderator, Dato' Dr Ahmad Farouk Musa
1100-1130: Presentation on "Can Islamist be Liberal?" by Mustafa Akyol
1130-1150: Intervener I: Dr Maszlee Malik
1150-1200: Intervener II: Wan Saiful Wan Jan
1200-1210: Intervener III: Dato' Dr Mujahid Yusoff Rawa
1210-1300: Q&A
1300: Lunch
Jointly organized by:
Islamic Renaissance Front, G25 & Penang Institute
Link: http://irfront.net/post/events/forum-on-can-islamists-be-liberal/