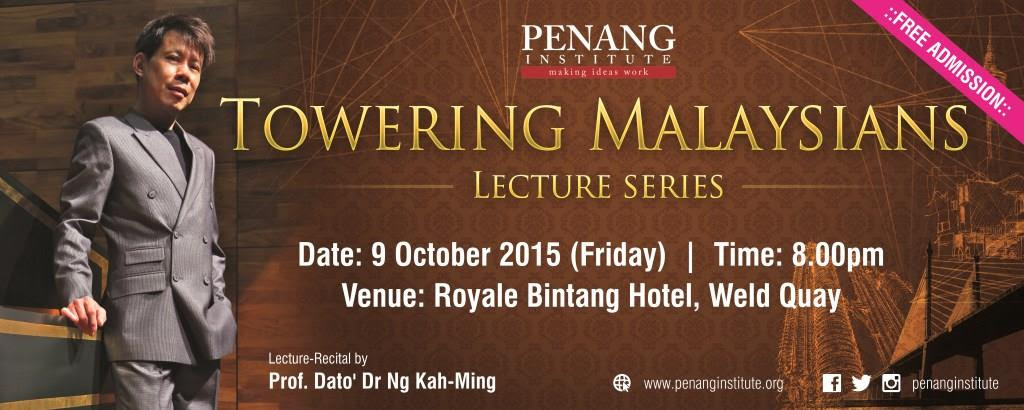 9 October 2015 – Friday, 8pm, Royale Bintang Hotel Ballroom, Penang
Penang Institute, the public policy think tank of the state government of Penang, is delighted to announce a new distinguished speaker series entitled The Towering Malaysians Lecture Series. The inaugural talk, delivered by internationally-acclaimed Malaysian harpsichordist and conductor YBhg Prof. Dato' Dr Ng Kah-Ming, will take the form of a lecture-recital on the harpsichord, during which he will share his experience pertaining to creativity, innovation, and leadership. We are honoured to have the Chief Minister of Penang YAB Tuan Lim Guan Eng officiate this event.
Date: 9 October 2015 – Friday
Time: 8.30pm-10.30pm (Registration at 8pm)
Venue: Royale Bintang Hotel Penang, Weld Quay, George Town Penang.
About the speaker
Oxford-based conductor, harpsichordist and musicologist Professor Dato' Dr Ng Kah-Ming is best known internationally as the director of his multiple award-winning period-instrument ensemble Charivari Agréable. With this group he has toured the world, collaborated with over sixty choirs, and recorded 22 critically-acclaimed CDs, many of which feature regularly in the playlists of radio stations all over Europe, the Americas, and Australasia.
As a scholar, he has contributed substantially to the definitive music encyclopaedia, the New Grove Dictionary of Music. As a performer-director, he has appeared in all the major concert venues in the UK, including Buckingham Palace and Windsor Castle, and also performed for pop-royalty such as Duran Duran and Sting.
Initially trained as a civil engineer (with a degree from Monash University Melbourne), he was a DAAD scholar in Frankfurt State Academy of Music, and was awarded two Chevening scholarships to train at the London Guildhall School of Music & Drama, and at Oxford University where he read for his MPhil and DPhil. He remains the only Southeast Asian holder of an Oxbridge doctorate in music.
Prof Dato' Dr. Ng will reveal facets of a career dedicated to engineering innovations in musical archaeology, based on creativity and entrepreneurship in the musical aspects of a burgeoning heritage industry.
About the series
This lecture series aims to bring towering Malaysians in various fields be it academic or non-academic to Penang for sessions on idea and experience sharing. This is to further inspire the younger generation inline with Penang's aim to be an International Intelligent World City. It is hoped that their life stories and career paths will spur creative thoughts in younger minds and encourage them to venture into unconventional fields.
As seats are limited, please register your interest below.
For further enquiries, please contact the secretariat at 04- 228 3306 or email to secretariat@penanginstitute.org.
Online Registration