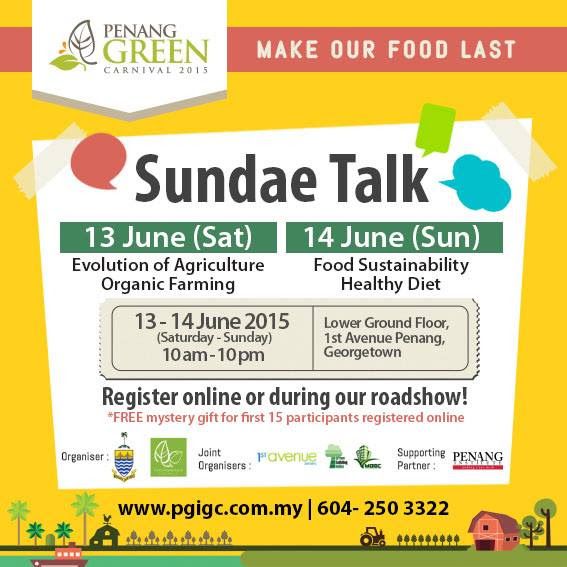 The Penang Green Carnival is back again for the fourth time. Come join us at 1st Avenue Mall for sundae talk sessions at the following time:-
1. Evolution of Agriculture (13 June at 2pm)
Farming of crops and livestock has begun since early days of civilization. However, with the growing competition of land and resources, agricultural practice has then evolved to satisfy the food cravings of worlds' population. The focus of this talk will be sharing the highlight of agricultural evolution; i.e. Genetic Modified technology.
2. The Myth of Organic Farming (13 June at 3.30pm)
Have you ever questioned yourself "Is this really organic" before? In order for you to judge, you will need to know what exactly does organic farming means. It is not as simple as not using chemical pesticides or fertilizers only. The type and source of water used counts too!
3. Alternative Source of Food with Urban Agriculture (14 June at 4.30pm)
Insufficient land for food crop planting is never again an excuse for urbanites in the concrete jungle. As 90.5% of Penang is urban area, we should start making sure the ever important key ingredient to prolonging our life to be sustainable. We shall share with you how urban agriculture could be the next best alternative.
4. Healthy Low Carbon Diet (14 June at 6pm)
When it comes to Penang, you can never run away from food! But do you know that the food system is responsible for 1/3 of global greenhouse gas emission. And most importantly DO NOT get mixed up with low carb diet. We are talking about healthy low carbon (footprint) diet here.
You may register your interest below.
For further enquiries, please contact the secretariat at 04- 228 3306 or email to secretariat@penanginstitute.org.
Online Registration