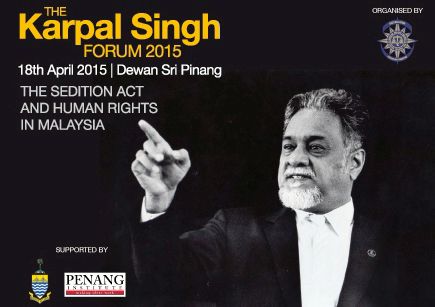 18 April 2015 (Saturday), 8.00 am- 1.00 pm,
Dewan Sri Pinang
On behalf of Penang Bar Committee, Penang Institute as the supporting partner of the upcoming Inaugural Karpal Singh Forum- 'The Sedition Act & Human Rights in Malaysia', would like to cordially invite you to attend the forum scheduled as follow:-
Date: 18 April 2015- Saturday
Time: 9.00am to 1.00pm (Registration starts at 8.15am)
Venue: Dewan Sri Pinang, Light Street, 10200 Penang.
Dress Code: Business Casual

Sedition and human rights has been the core of Karpal Singh's illustrious legal career. On the 10 April 2015, The Sedition (Amendment) Bill 2015 was passed after a long-drawn debate. The new amendments has The United Nation's Human Rights High Commissioner Zeid Ra'ad Al Hussein urging Putrajaya to withdraw its proposed amendments to the Sedition Act 1948, warning that the new provisions would seriously undermine the freedom of expression and opinion in Malaysia.
It would have been interesting to have seen how the Tiger would have argued the act in the August House. Nevertheless, we have among the brightest legal minds in the arena today to take on that duty. Join us for an interesting and insightful panel discussion with Mr. Mark Trowell QC, who once observed Karpal Singh's sedition trial for LAWASIA; Dato' Mahadev Shanker, a founding member of the Human Rights Commission of Malaysia; Mr. Steven Thiru, the current president of the Malaysian Bar; Dato' Ambiga Sreenevasan, a prominent human rights advocate. The panel would be moderated by Mr. Christopher Leong, immediate past president of the Malaysian Bar.
Entry is strictly by registration only. Please register to avoid disappointment.
All entries to be received by the 14th April 2015.
Programme
8.00am – Registration
9.00am – Welcoming remarks by Chairman of Penang Bar Committee, Ms Shyama Nair
9.10am – Speech by YAB Tuan Lim Guan Eng, Chief Minister of Penang
9.40am – Keynote Address by Mark Trowell QC
10.15am – Tea Break
10.45am – Panel Discussion
12.05pm – Question & Answer Session
1.00pm – Lunch
Online Registration