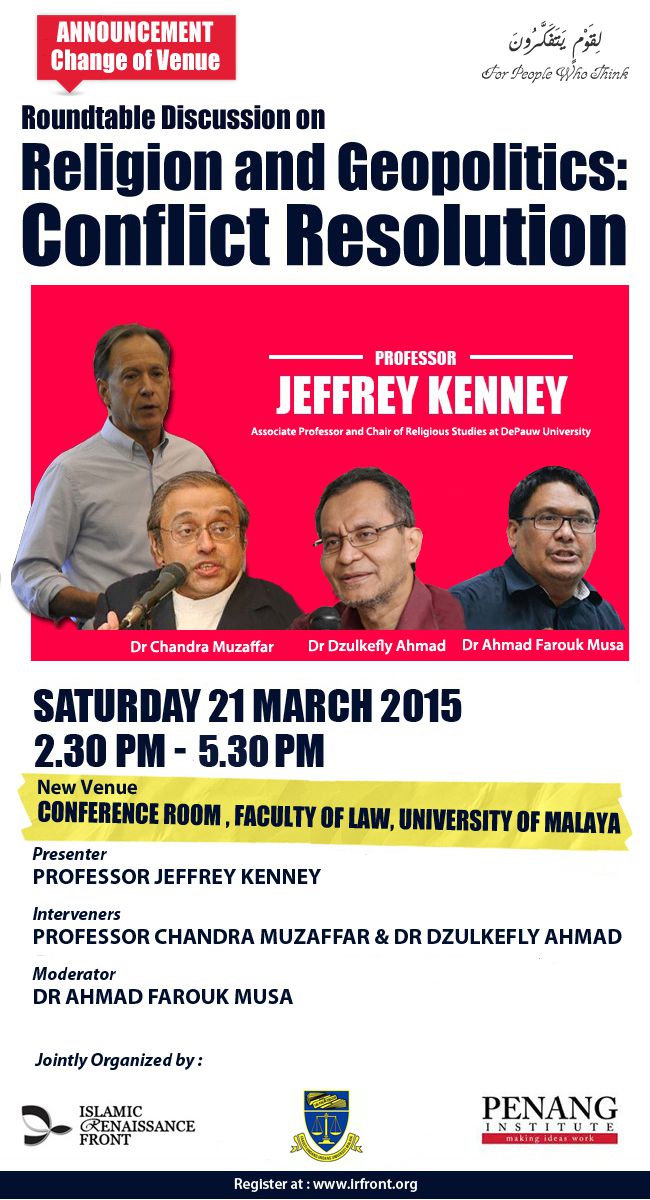 Saturday, 21st March 2015, 230PM – 530PM, Conference Room, Faculty of Law, University of Malaya
Penang Institute, the public policy think tank of the Penang state government is proud to co-host the round table with Islamic Renaissance Front (IRF) and Faculty of Law, University of Malaya entitled "Religion and Geopolitics-Conflict Resolution".
Date: Saturday, 21st March 2015
Time: 230PM – 530PM
Venue: Conference Room, Faculty of Law, University of Malaya, Kuala Lumpur
The importance of religious terrorism in contemporary geopolitics has forced policymakers and academics to rethink the taken-for-granted understanding of geopolitics as interstate politics. Geopolitics perhaps offers as a framework to understand the world in its complexity as a pathway to try and explore and empathize with the diversity of political contexts and actors across the world.
Geopolitics is about the exercise of power. It is about geography. It is about actions. It is about how we portray, or represent, those actions. It is about how the powerful have created worlds. It is about how the weaker have resisted such efforts and, in some contexts, partially constructed their own worlds. It is about a multitude of connected actions and actors and the geographies they make, change, destroy and maintain.
In debating the issues relating to religion and geopolitics, current political thinkers have questioned the granted assumptions about Islam, the Middle-East, and the people that populate them; that have somehow justify military action and other foreign policy agendas. This has somehow motivated some marginalized or oppressed group, for perhaps the real motivation for "terrorism" is perceived political injustices.
About Prof Jeffrey Kenney
Jeff Kenney earned his Ph.D. in Religious Studies from the University of California at Santa Barbara. His research focuses on Islam in modern Egypt, with a special interest in Islamist movements, political violence and religion-state relations. His areas of teaching responsibility include comparative courses in the study of religion (such as Judaism-Christianity-Islam, Introduction to Religions, and Religion and Politics), as well as more specialized courses in the Islamic tradition (such as Classical Islam, Islam and Modernity, and Women in Islam). He is also the author of "Muslim Rebes: Kharijites and the Politics of Extremism in Egypt" and a co-editor of "Islam in the Modern World".
Programs
230-300PM: Registration
300-305PM: Introduction by Moderator, Dr Ahmad Farouk Musa
305-315PM: Welcoming speech by Dr Azmi Sharom, Faculty of Law, University of Malaya
315-325PM: Opening speech by YB Zairil Khir Johari, Executive Director of Penang Institute
325-400PM: Speech by Prof Jeffrey Kenney, Professor of Religious Studies, Depaw University, Indiana, US
400-415PM: Intervener 1: Prof Chandra Muzaffar
415-430PM: Intervener 2: Dr Dzulkefly Ahmad
430-530PM: Discussion
530PM: Tea
Link: http://irfront.net/post/events/roundtable-discussion-on-religion-and-geopolitics-conflict-resolution/
Registration: https://www.eventbrite.com/e/roundtable-discussion-on-religion-and-geopolitics-conflict-resolution-tickets-16027584938