Penang Institute, the public policy think tank of the Penang state government is proud to host the upcoming 2 days conference entitled "Federalism in Malaysia: Design and Practice". The details of the conference are as follows:
Date : 15 – 16 September 2014
Time : 9 am -5 pm
Venue : Pinang Ballroom, Level 3, Traders Hotel, Penang

The "Federalism in Malaysia: Design and Practice" Conference is a forward-looking effort undertaken by Penang Institute to provide the most comprehensive and in-depth analysis on Malaysia's centralized federalism after 51 years. From petroleum royalty to state-level Hudud law, federalism is at the core of many institutional and policy matters. It fundamentally means multi-tiered governments with meaningful realms for self-rule at state level and shared-rule between the Centre and the States.
In comparative literature, federal and decentralised governance is positively associated with consensual democracy as diversity and competition between constituent states. Is Malaysia as a diverse and multicultural nation making the best out of her federalism, the foundation of which was laid down in 1948? With the participation of 17 distinguished scholars, this project seeks to investigate into both the right degree of decentralisation and the health of federal-state relations. The former concern covers diverse functional domains from land, environment, housing, transportation, economic planning, education to policing. The latter engulfs eight out of 13 states, namely Sabah, Sarawak, Penang, Selangor, Perak, Kelantan, Terengganu, Johor and alongside, the relationship between the modern nation-state and the indigenous communities.
This conference promises thought-provoking analysis and discourses for the building of our nation, democracy and economy. Thus, Penang Institute invites you to join this intellectual exchange and share your thoughts.
As the conference is a paid event, please refer below for the registration and the payment packages :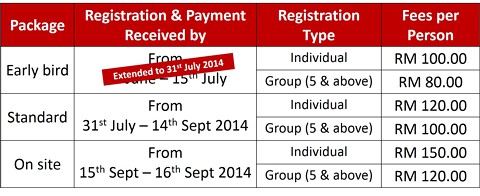 * Fees inclusive of registration and conference kit only.
If you have not register with us, please do so now as we are extending our Early Bird Package promotion till 31st July 2014.
Method of Payment:
For Early Bird & Standard Conference Package :-
Online banking to the following account:
Penang Institute
Public Islamic Bank
Pulau Tikus Branch, Penang
A/C No. 398 287 4518
(Recipient e-mail add : maggie@penanginstitute.org)
OR
Payment by cheque
Penang Institute
Public Islamic Bank Berhad
Account number: A/C No. 398 287 4518
(Please fax the Cheque Deposit Slip as proof of transaction to 04-2267042 or alternatively e-mail it to maggie@penanginstitute.org)
OR
Cash to be paid at Penang Institute, No. 10, Jalan Brown, 10350 George Town, Penang.
Note:
Payment method for On Site Conference Package is via CASH ONLY on 15th September 2014 during registration.
Due to limited seating, we require your kind assistance to reserve your participation as soon as possible. Please click here for on-line registration.
For further enquiries, please contact Mr Nicholas Chan/ Mr Razan at 04- 228 3306 ext 207/204 or alternatively e-mail your enquiries to nicholaschan2003@penanginstitute.org / federalismpi@gmail.com

Do visit us at penanginstitute.org/federalism for further information.