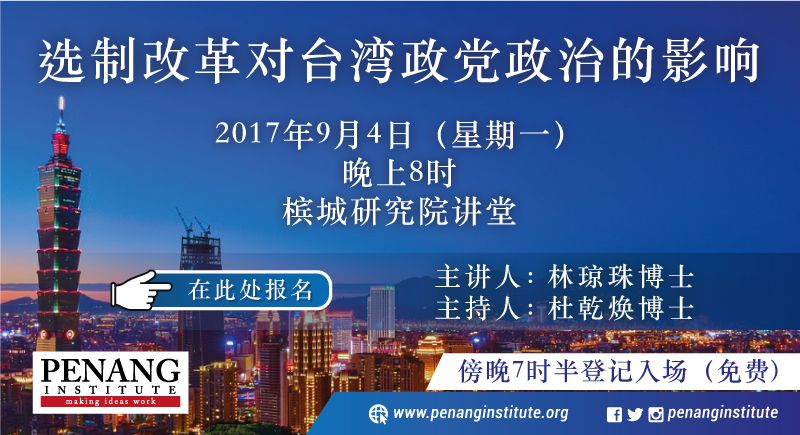 Penang Institute, the public policy think tank of the Penang state government is proud to host a mandarin forum entitled "Taiwan's New Electoral System and Its Political Consequence 选制改革对台湾政党政治的影响" which will be scheduled as follows:-
Date : 4 September 2017 (Monday)
Time : 8.00pm (Registration starts at 7.30pm)
Venue : Conference Hall 1, Penang Institute, No. 10, Jalan Brown, George Town, Penang

Prior to 2008, Taiwan used the Single-Non- Transferable Vote (SNTV) system to elect its legislators. Since 2008, a new electoral system, which is known as the "Mixed-Member Majoritarian (MMM) system", has being adopted in Taiwan for its legislative election. This new electoral system combines First-Past- The-Post (FPTP) with party-list proportional
representation (PR). Different electoral systems resulted in different political impacts, while the change of the electoral system will influence a country's political development, the development of political parties, and voters'
behavior.
This talk will focus on how the design of electoral system affects the electoral strength of the party, further influences the dynamic development of the party system in Taiwan, and it also has an important effect on achieving representative politics and electoral representativeness.
Speaker:
Dr. Chiung Chu LIN
Dr. Lin is an Associate Professor in Soochow University, Taiwan. She received her PhD from the Department of Government, University of Essex, UK. Her research interests include voting behaviour and party politics.
Moderator:
Dr. Toh Kin Woon
Dr. Toh is a fellow of Political Studies Programme at Penang Institute. He was previously a State Executive Councillor of Penang State Government.

Due to limited seating, we encourage you reserve your participation here as soon as possible.
---
台湾国会选举制度原本主要采用单记不可让渡制度(SNTV),自2008年开始,改采单一选区两票制之并立制度(MMM)。新的选举制度已经实施三届,其带来的政治效应为何?这是相当值得关注的议题。然而,有关政治效应的讨论范围很广,包括选举制度的比例性、代表性、政党体系、候选人参选动机、选民的投票行为等等。
此次座谈会将聚焦于新选举制度对台湾政党体系的影响。内容涵盖将台湾改制前的制度、选制改革的因素、新选举制度的主要内涵、新选举制度对政党体系之影响等等。
主讲人:
林琼珠博士
毕业自英国艾塞克斯大学政府系博士学位。目前专任台湾东吴大学政治系副教授。主要研究专长为选民投票行为和政党政治。
主持人:
杜乾焕博士
槟城研究院政治研究员和槟城州前行政议员。
座位有限,请按此名参与。