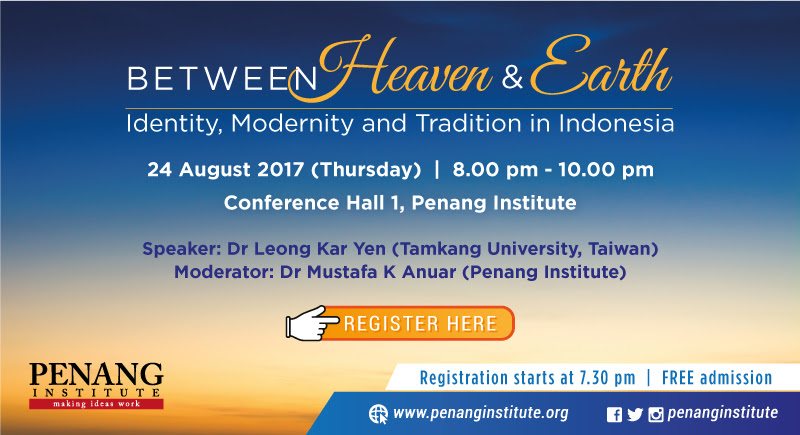 Penang Institute, the public policy think tank of the Penang state government is proud to host a seminar entitled "Between Heaven and Earth: Identity, Modernity and Tradition in Indonesia" by Dr Leong Kar Yen which is scheduled as follow:
Date : 24 Aug 2017 (Thursday)
Time : 8:00pm – 10:00pm (Registration starts at 7:30pm)
Venue : Conference Hall 1, Penang Institute, No. 10, Jalan Brown, George Town, Penang
Culture, tradition, and modernity in many Southeast Asian countries continue to be issues of great concern, sometimes even conflict. Using Indonesia as an example, Dr Leong will be discussing the role that culture and religion play in how this nation of more than 200 million souls continue to define their identity as well as their future. The material from the presentation stems from two years of continued engagement within the locale of a city in central Java. It discusses the meaning of tradition and modernity through literature and also conversations with locals on how both terms are complementary or contradictory. It is also hoped that this research would also be used as a lens in which to compare similar developments in Malaysia.
About the Speaker
Dr Leong Kar Yen is an assistant professor in Tamkang University, Taiwan and also an adjunct fellow at PI. Trained atNUS in Southeast Asian Studies, he has an abiding interest in the region and how its many elements mix match and coalesce.
Please register your interest here. Please feel free to circulate this invitation to your family and friends.